Do you know this? You have actually prepared everything well for the meeting. Nevertheless, the mood in the circle of colleagues drops just a few minutes after the start. The presentation turns into a nerve-racking discussion and their presented planning solution is literally taken apart. Therefore, this article is intended to highlight the causes and to show possibilities how you can convince with your planning solution. Factory planning is complex and communicating and informing the involved parties adequately is a frequent task of a planner. The more successful this is, the more effectively the entire team works together. This saves time and nerves.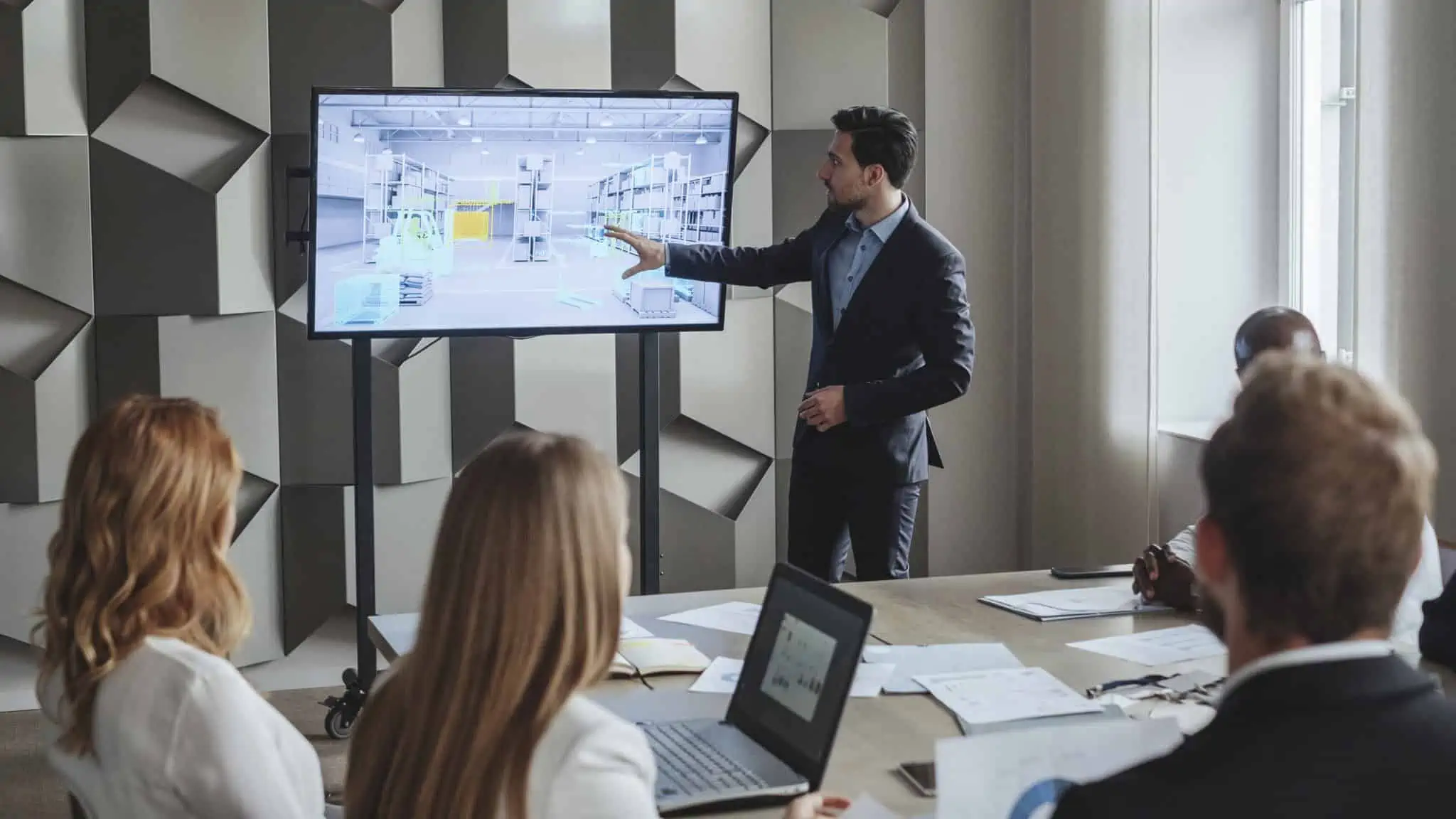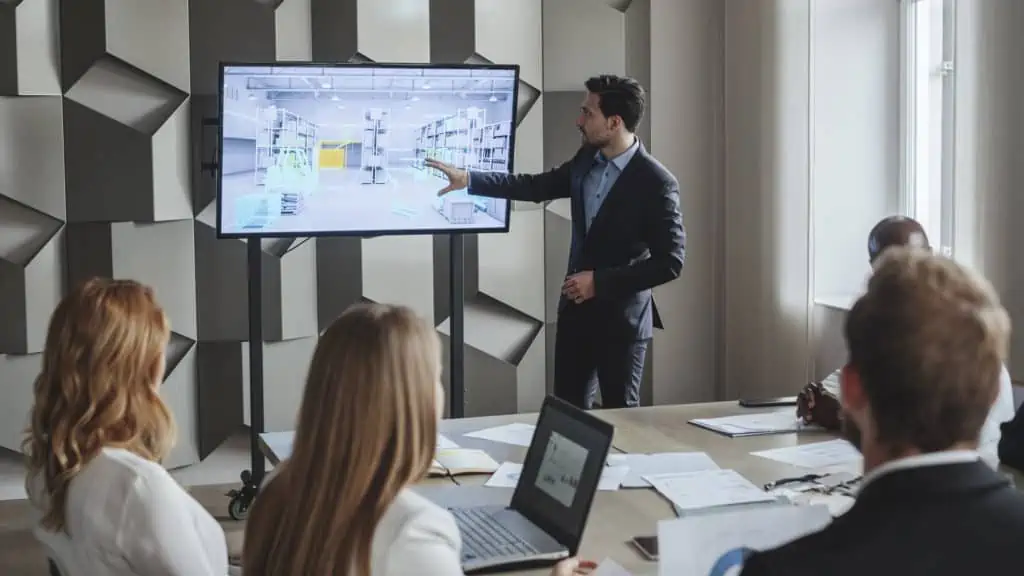 Possible questions in a planning
The following questions are typical requirements in production planning:
Is there enough floor space for delivery, the picking area, and also for material supply at the assembly lines?
How often does a forklift truck travel between parts storage and pre-assembly and how can the distance there be kept as short as possible?
What aisle widths are to be provided on the main traffic axes?
Are work tables set up underneath exhaust systems?
Were escape routes for employees taken into account in the installation?
As a result, all operating resources should be in the right place and ensure a sustainable planning concept for the coming years. Let's assume you have just completed a planning phase and are to present your results at the next Monday meeting in just under 10 minutes. Your production manager has already agreed and you are preparing the presentation. But team leader also expects you to give everyone an overview of the current planning status.
Initial situation and available data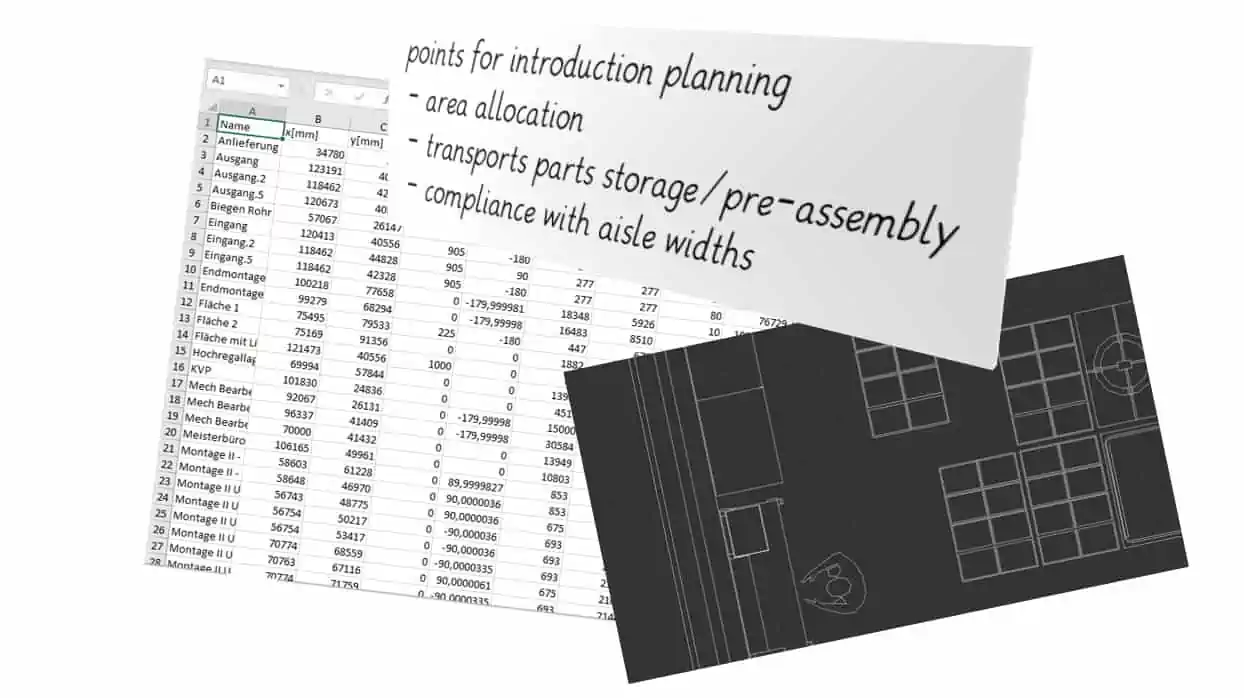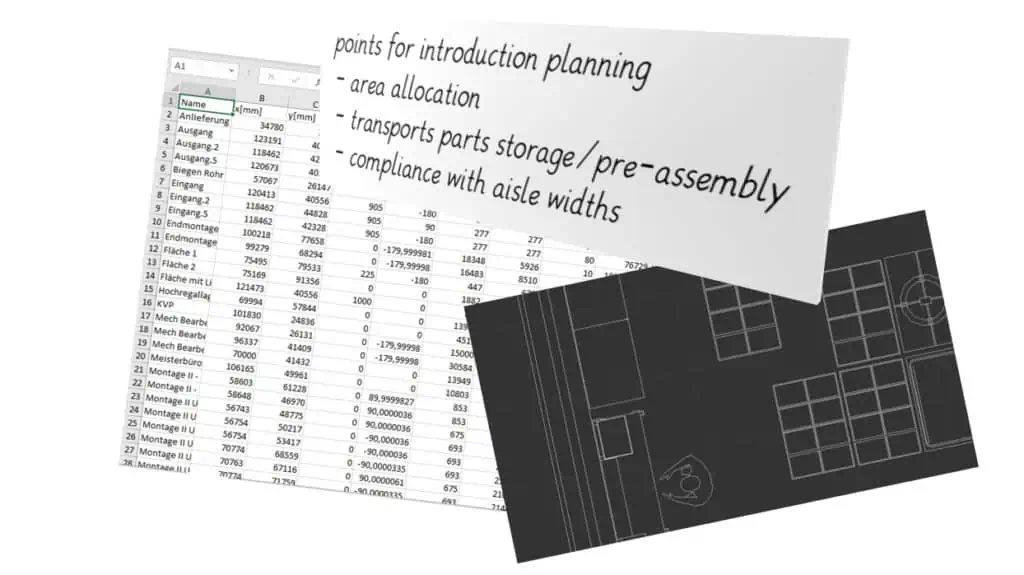 The first step is to think about how you can best present your concept. You have the following data at your disposal:
some tables with calculated values
a CAD drawing of the installation plan
List of important points about the planning concept
Before you can show something, you need a few more arrows in the CAD drawing to illustrate the processes. However, you don't have the software on your computer and the expert for such things is not available at the moment. Also the tables would actually need a revision. No one in the group is as deeply involved in the topic as you and your colleague. But time is pressing. You decide to leave everything as it is and to use only a few screenshots of the layout in your slides.
The planning meeting begins
It is Monday, the mood is good. You start the meeting directly with a coffee. You start with the introduction and explain your reasons for the current planning concept. After 2 minutes you can already see how someone, bored, scrolls through his emails on his smartphone and the expression of your production manager reflects a mixture of disinterest and impatience. Then someone throws the first question into the room:
"And how did you imagine this now? Where should my containers from the K17 go now!?"
You quickly scroll back to slide 7 and show and explain the drawing to the person asking the question. It is ultimately accepted, but you sense the dissatisfaction of your colleague, who does not seem completely convinced. In any case, the mood is gone for the time being, you had imagined differently. It was all carefully planned..
Did everyone in the planning team understand you?
When something is unclear, people react differently. One person directly asks an open question, as in this case. Another behaves passively and draws his conclusions based on the information shown. Because everyone in the planning team has a different professional background, different experiences and their own perception of questions. This means that the information presented is interpreted differently by those involved. This is precisely where the great strength and at the same time the greatest challenge lies in interdisciplinary teams. How do you coordinate effectively and bring yourself and the team to a common denominator?
If information such as complex tables or abstract CAD drawings can be interpreted and understood in different ways, misunderstandings are often pre-programmed. Such discussions cost time and the question arises whether at least questions for the fundamental understanding of the shown information can be avoided and one is mentally already one step further after the conception in planning.
the most common reasons for lack of acceptance in planning meetings:
too high information density on presentation slides
no comprehensible visualization
key figures that are not very meaningful
Ultimately, everything revolves around the correct visualization of complex issues in a form that is easy to understand for all parties involved. So the related question is how can I present my solution in a way that everyone understands me and unnecessary questions are avoided? A factory in itself, no matter if it is already physically present or not, is ultimately nothing else but an object arrangement consisting of a hall and equipment and we always want to know in the end how this planned factory will look like in order to get a tangible idea.
This visualization then also offers a much easier basis for decision making than a set of numbers that can be interpreted in various ways or an abstract 2D drawing.
How can I better communicate my planning concept?
1. Less is more – Do you need slides at all? Why not simply present your planning results directly in the software you use? Make the object tangible and lively for everyone and show the real result live! Often a handful of slides are sufficient to explain the details again.
2. A picture says more than 1000 words! Pick up your listeners with a comprehensible visualization. Just fly through the newly planned 3D section. Explain the details, considerations and intentions based on a tangible representation of the factory. This way you can reach many more colleagues or participants if they immediately recognize your area or equipment. This makes many things directly comprehensible on the basis of a close-to-reality presentation in the factory. Because usually what a 3D layout shows, will be in your factory in the future.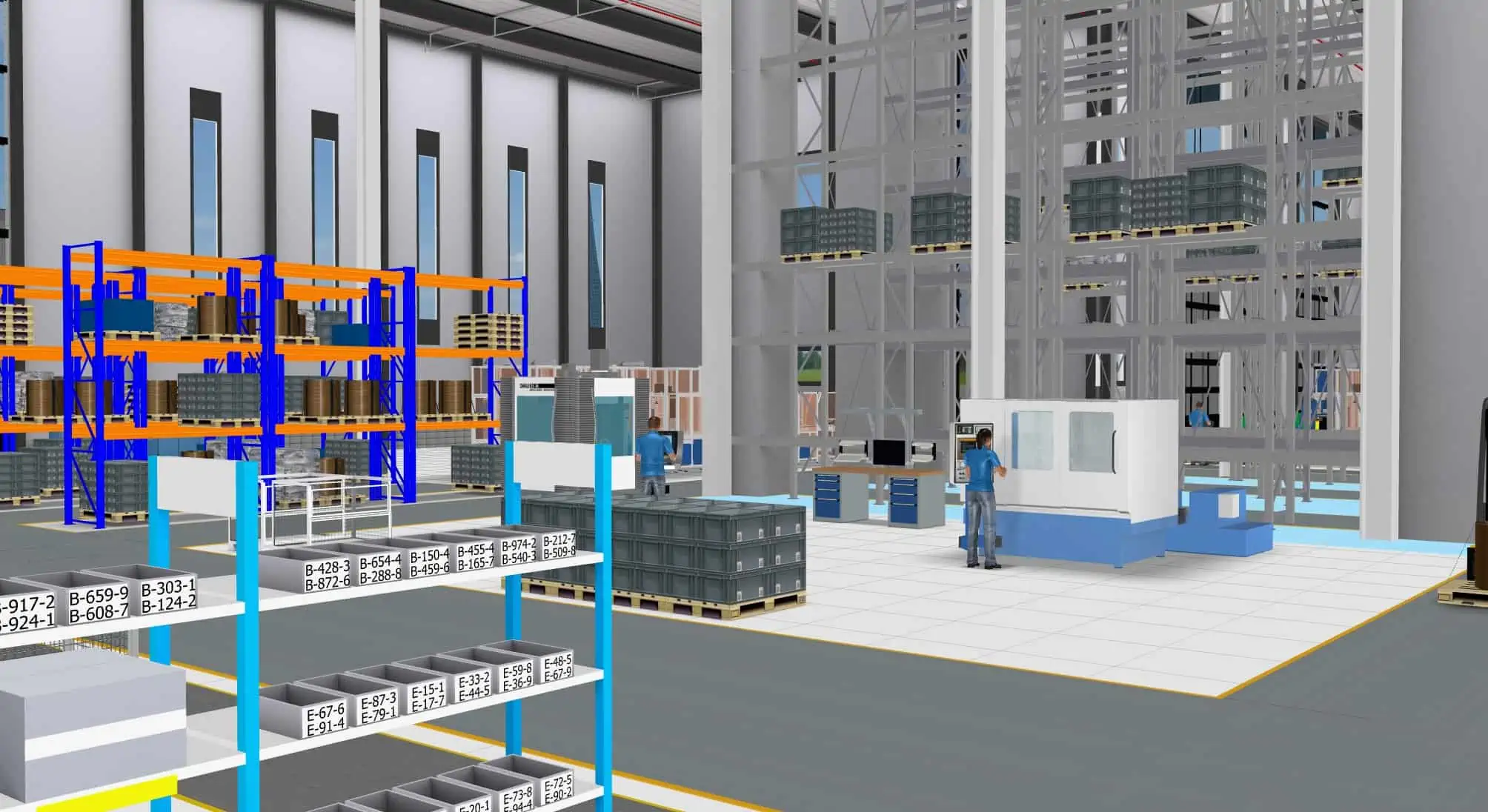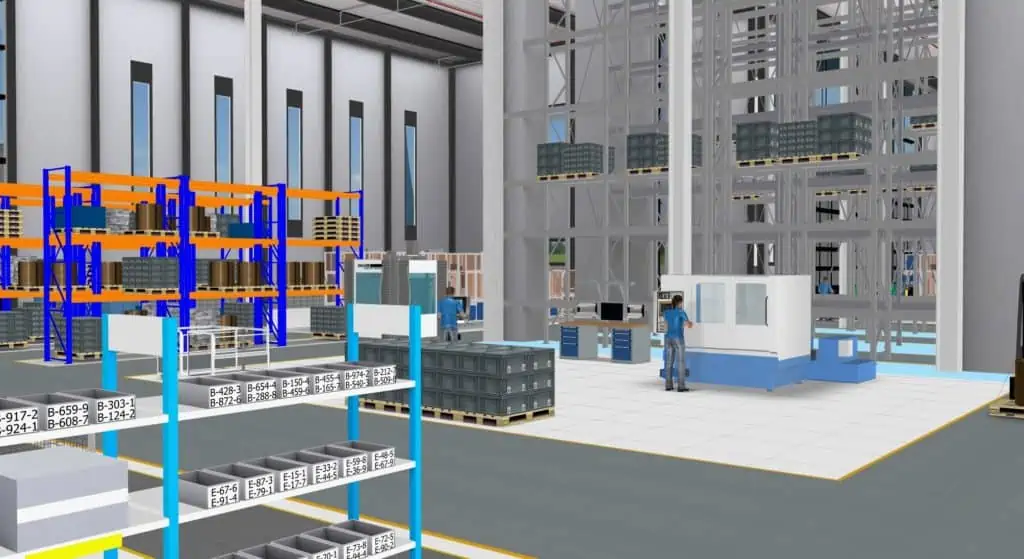 In addition, schematic process diagrams can be used, which ideally can also be reproduced in a 3D view of the factory model.
3. Key figures at the push of a button. Pictures are important in the beginning to create a basic understanding of a topic. However, to answer some questions, concrete key figures are also needed as target figures. How would it be if you could show live calculated space requirements, transport costs, network loads directly in your factory model? Isn't that much more convincing than a simple table without focus on the essentials? What if you could even show and simulate the effects of a layout change live as a variant?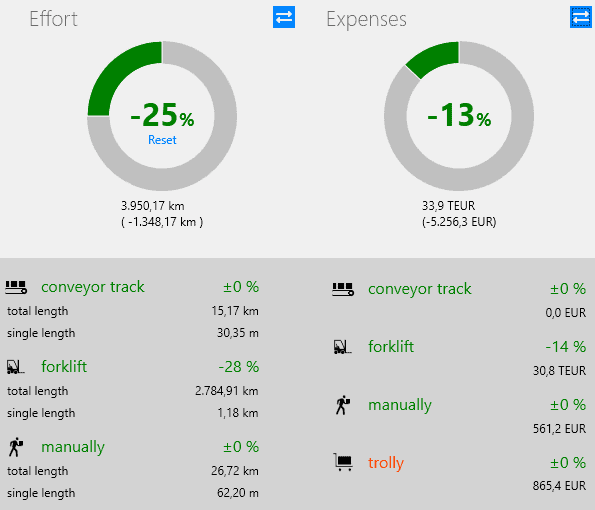 Software support
Today, the above mentioned possibilities are offered by professional planning software, which was developed exactly for this purpose. Of course, the right data basis remains decisive. If I want to make the factory model tangible and understandable, I also need appropriate 3D data and knowledge about the material flow in the company.
In the best case, your 10-minute presentation will then become a lively CIP workshop that really takes your team and project forward.