Amazingly simple to use - even without CAD knowledge.
visTABLE® software stands for intuitive factory planning. You can generate complex layouts in minutes using drag & drop. Intuitive operation is quick and easy to learn, and allows you to get started without any knowledge of CAD tools.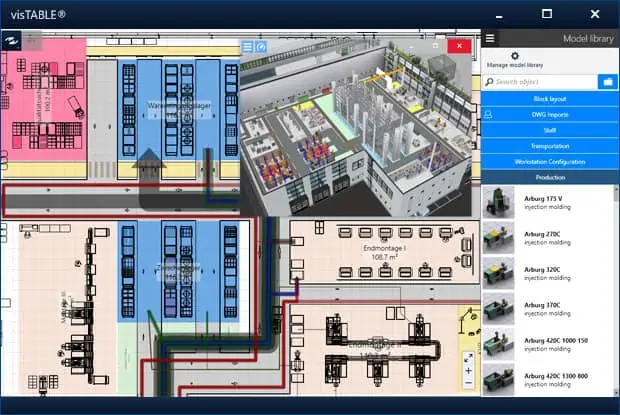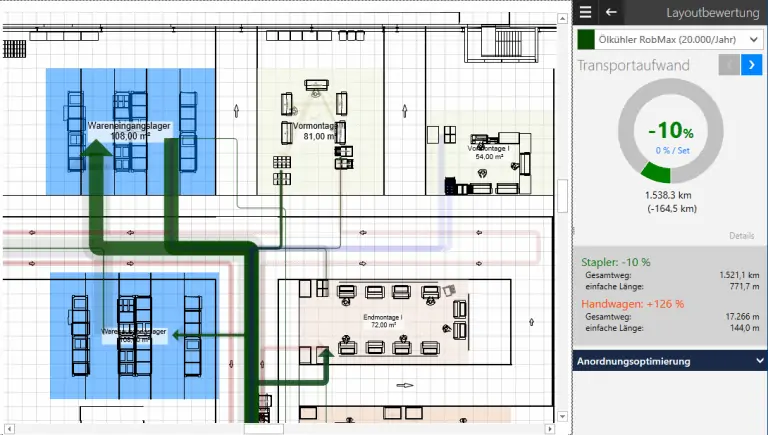 KPIs dispel all fears of wrong decisions
All modifications to material flow, floorspace or safety clearances are validated immediately by the software. The unique linking of processes and layout serves to optimize your procedures and reduce logistics costs.
3D visualization simplifies communication with superiors and customers
Part of visTABLE® is a 3D library that comprises 2400+ scalable models from the areas Building, Manufacturing Assembly, Personnel, Transport means, Warehouse, Robot, Cranes, Areas, Outdoor area, and many more. Import CAD Data to extend your library.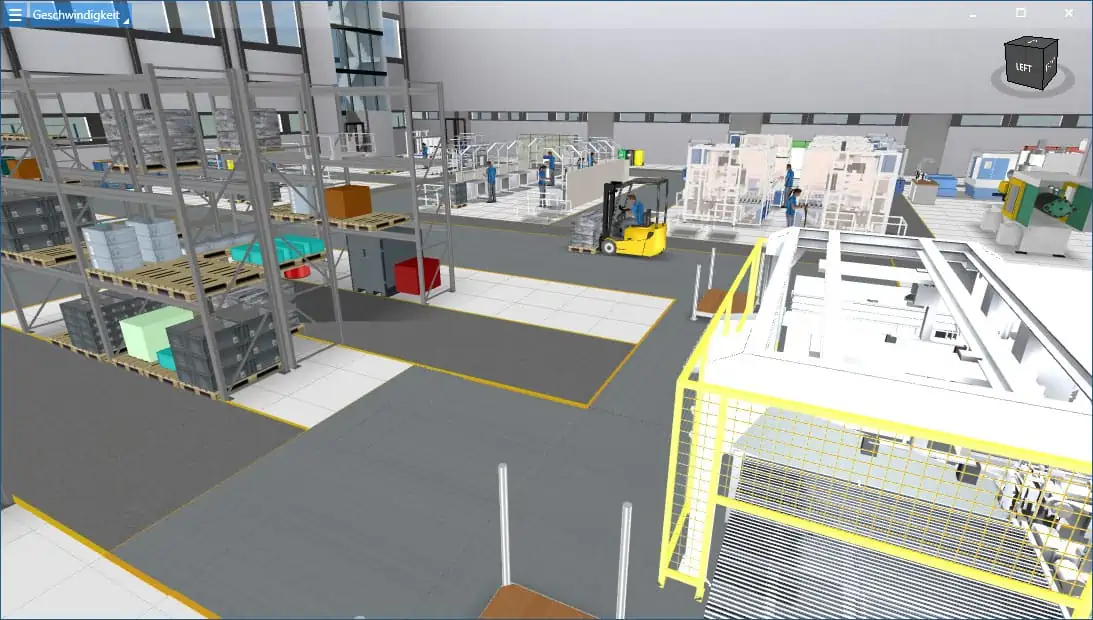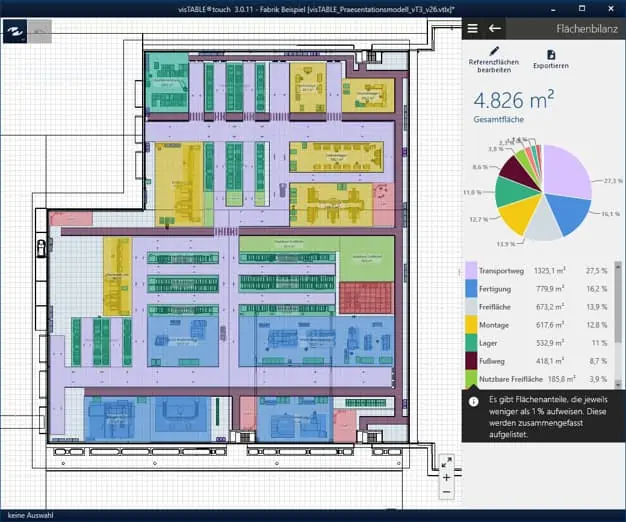 Save space, without time-consuming manual determination
Comparisons of layout variants and report creation for the controlling department are rendered significantly easier. The evaluation is performed by the assignment of individual area types (e.g. transport route, warehouse, assembly, manufacturing, etc.).
Integration and mapping of your value streams in the layout
ERP data (e.g. work plans, BOMs) are integrated via an interface to Excel. Furthermore, value stream mapping is an excellent database for linking with the layout. Both can be edited further in visTABLE® interactively.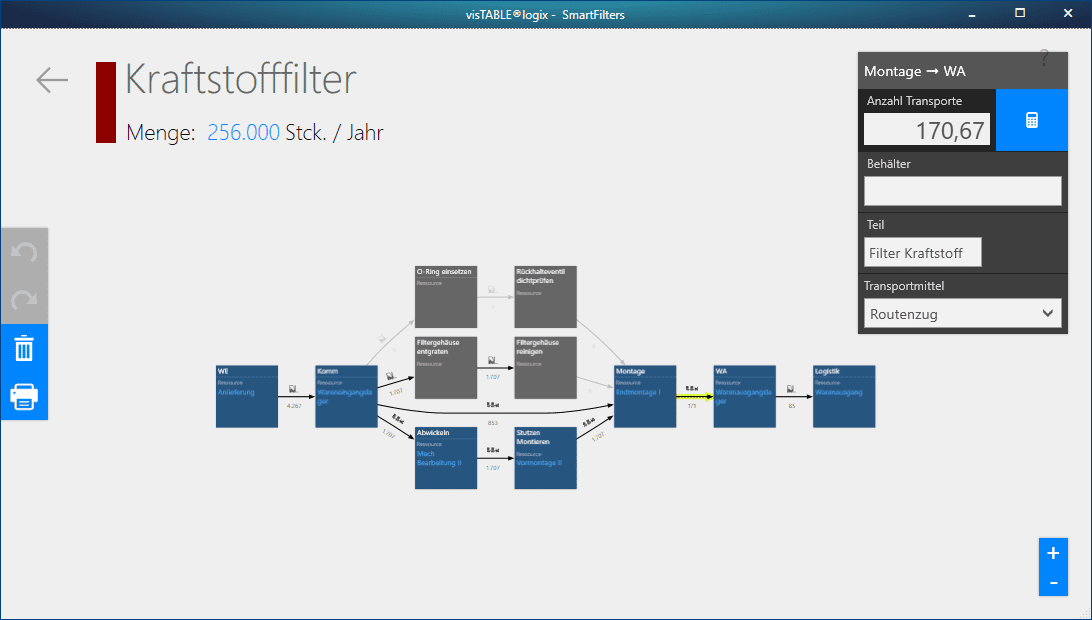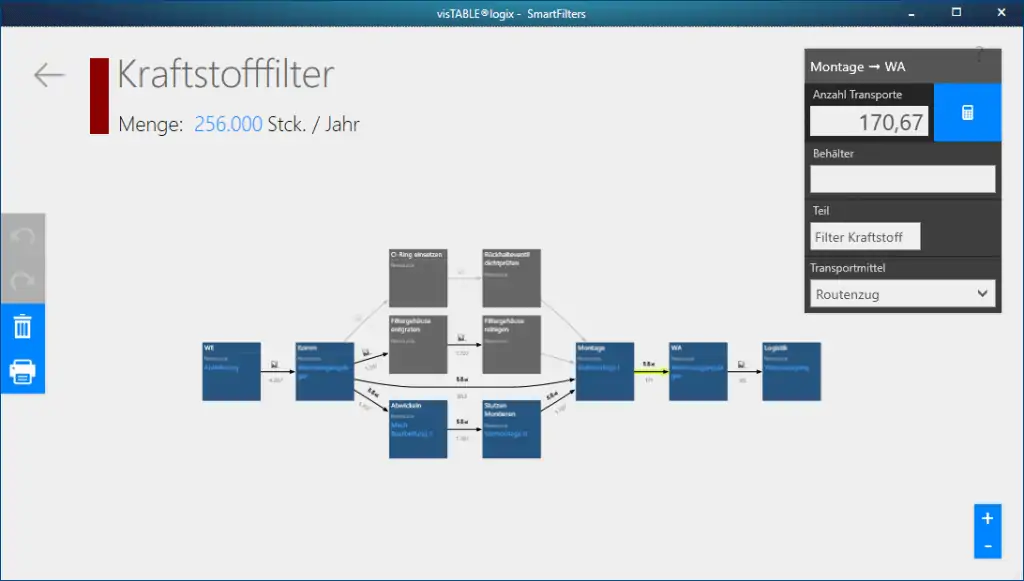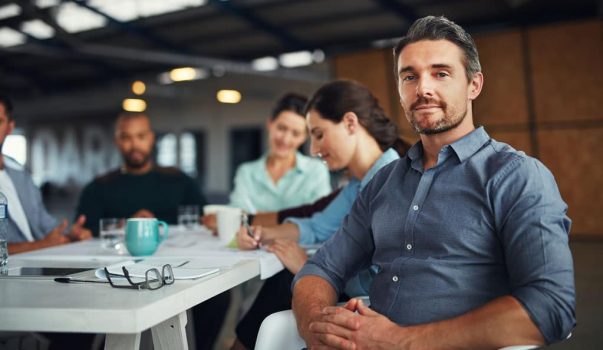 Replace annoying project conflicts with perfect teamwork
The software makes it easy for you to respond to changes. Use KPIs to make well-founded decisions! Give your employees opportunities to tackle new challenges quickly and successfully. visTABLE®touch standardizes your decision-making processes. And that leaves you with more time for growth and your customers.
Why should you use the visTABLE® software?
Our software is tailored to your needs because
You can buy visTABLE® on a subscription-based pricing model.
Online purchase is available through our online shop.
See Pricing
"With visTABLE®, we were able to get our key decision makers back on track. Instead of subjective guesses, they got the exact metrics they need to get their jobs done. Flexible, interactive - just dive in."
Elena S. – Project Industrial Engineer