Optimally positioned internationally
As an automotive supplier with the mission statement "Experience mobility – develop the future.", ElringKlinger has become a trusted partner to its customers – with a firm commitment to shaping the future of mobility. Be it optimized combustion engines, high-performance hybrids, or environmentally-friendly battery and fuel cell technology, ElringKlinger provides innovative solutions for all types of drive systems.
9.600 employees
45 locations worldwide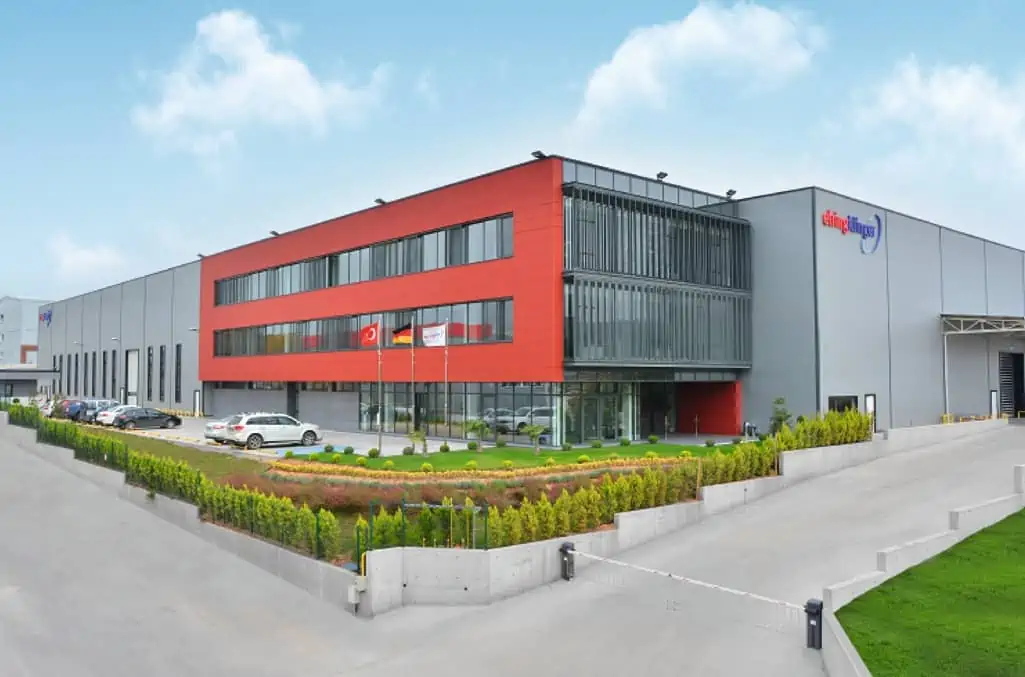 Challenges in site planning
efficient and sustainable logistics planning combined with building management requirements
In 2013, ElringKlinger was looking for a suitable software tool for factory layout planning, as the previously used tools no longer met the current requirements. For this purpose, a user value analysis between four different software packages has been carried out. Two left early due to their simulation bias. It soon became clear to both those who remained that visTABLE®touch would support future planning at ElringKlinger.
The focus on building and factory layout, ease of use and high performance on standard hardware were key. Experience has shown that with plavis GmbH we have found a great partner who actively approaches us and takes our requirements seriously-

– M. Wurst, Director Factory Planning & Smart Manufacturing
The following example shows the enormous challenges that Elring-Klinger faces: Since 2001, automobile production in Turkey has increased by a whopping 420 percent – from 280.000 to 1.22 million vehicles. Growth is also forecast for the coming years. ElringKlinger TR Otomotiv Şanayi ve Ticaret A. Ş. (EKTR), of course. However, as the previous production area was no longer sufficient for this purpose, detailed planning for a new building began in October 2014.
The construction work started in August 2015 and was completed in August 2016. The fast pace was also due to the efficient planning with visTABLE®touch.

– M. Wurst, Director Factory Planning & Smart Manufacturing
Logistics and buildings as one unit
Team planning in practice
visTABLE®touch supplies ElringKlinger with a solution for building and logistics planning that can be regarded as a single entity and that experiences synergies through joint coordination in day-to-day business.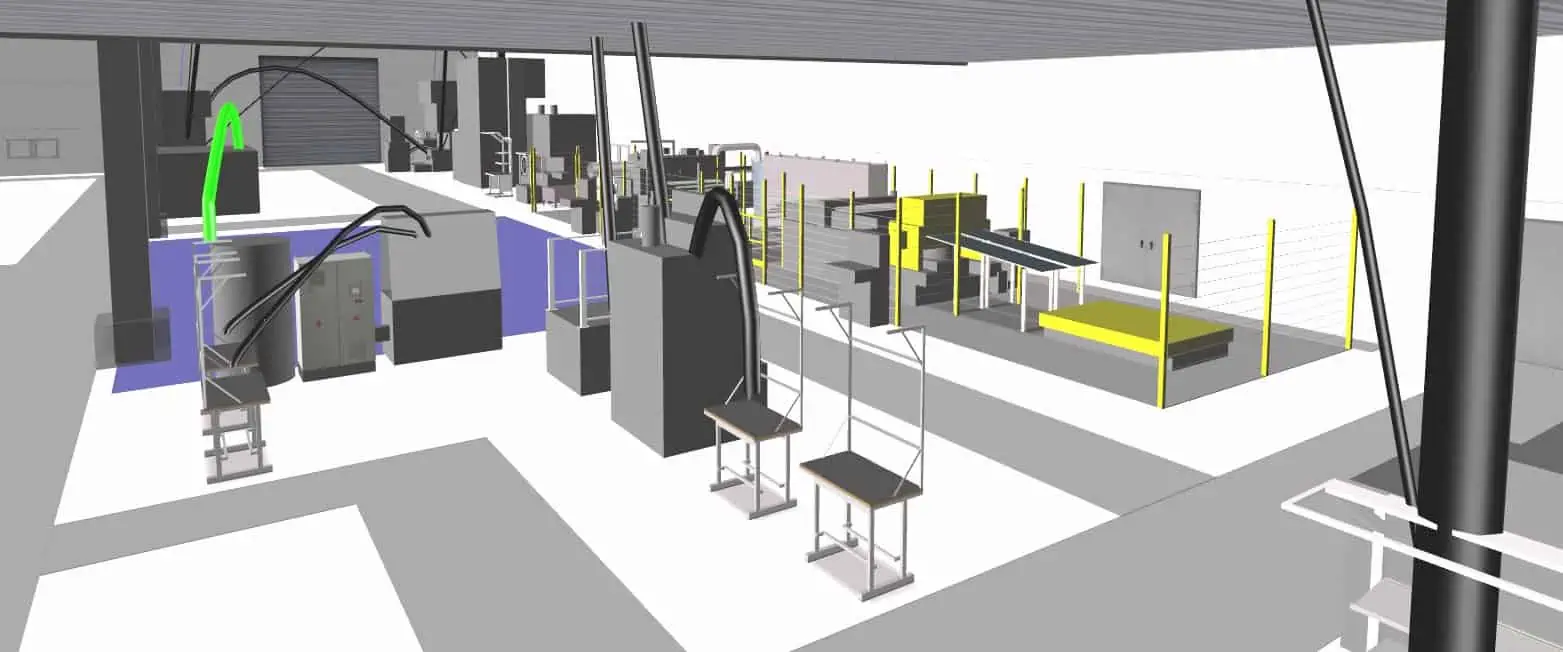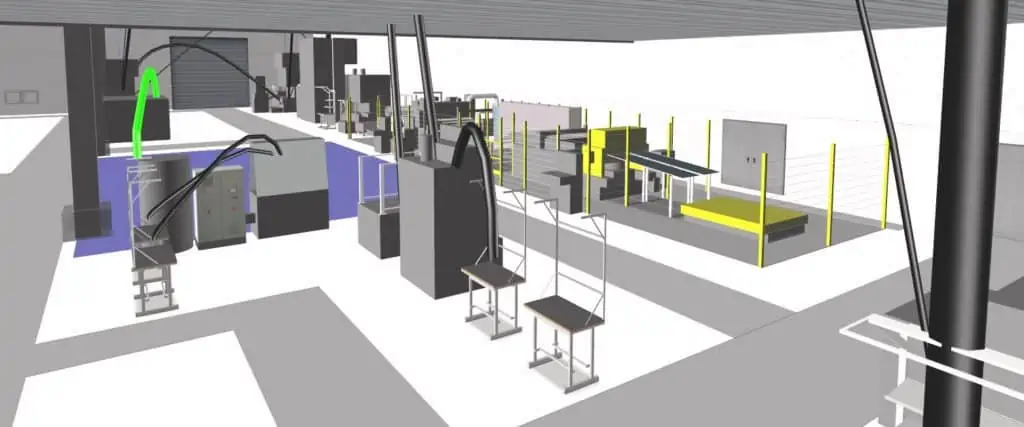 For example, if external consultancy services were used for escape route planning, everything can be planned inhouse with the integrated functions and model catalogs.
Effective work in the workshop
Above all, the team uses the transparent visualization of the setup in 2D and 3D for the floor plan. Everyone in the team immediately has an idea what is being planned. Added to this is the adhoc layout rating at any time with the blitz-fast variants play.
An enormous time and cost advantage.

– M. Wurst, Director Factory Planning & Smart Manufacturing
The integration of new employees succeeds due to the simple operation and understandable visualization in visTABLE®touch in a very short time. This creates high investment security in the planning area.
The speed with real-time changes, be it 2D / 3D synchronization, but above all the evaluation of the transport effort with every change in the layout – that's really unique.

– M. Wurst, Director Factory Planning & Smart Manufacturing
A strong partner – plavis GmbH
The data source for logistical real-time valuations at ElringKlinger is SAP. Here, the practical requirement for importing and exporting data was quickly created. With logix, visTABLE®touch offers an easy-to-understand view with process graphs as well as the import of complex material movements via a universal interface (Excel).
Through logix alone, we save four to five working days in each project and create an easy-to-understand database. plavis GmbH has given us great value with the implementation of bidirectional data exchange.

– M. Wurst, Director Factory Planning & Smart Manufacturing
Another important topic at ElringKlinger is the use of complex CAD data (2D drawings). plavis offered a practical solution based on many years of experience with 2D / 3D data from product development. The company is now able to plan even large layouts.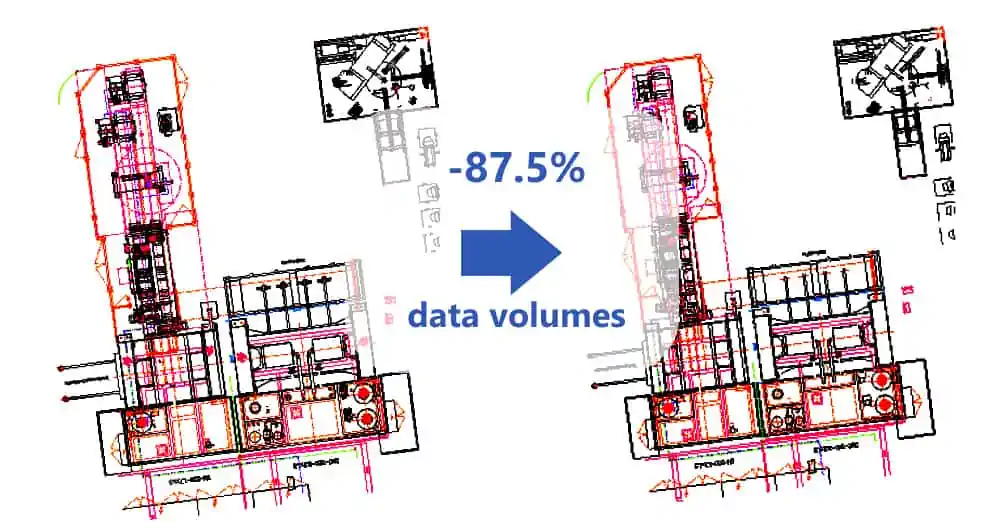 The example above shows how even a simple filtering of CAD elements could increase the maximum number of displayable planning objects by a factor of 10 and for very large factory scenarios down to 1% (factor 100) of the original data set can be further reduced, with preservation of important planning information (machine outline, opening paths, for example).
The support responds quickly and solution-oriented, just as we need it in the daily business. This is extremely rare today with software manufacturers,

– M. Wurst, Director Factory Planning & Smart Manufacturing
Plan the future
plavis GmbH is constantly developing the planning system visTABLE®touch and also offers accompanying services from the professional preparation of planning data (2D / 3D) to the VR connection of the resulting 3D factory. In terms of prospects, Elring-Klinger also sees potential for integrating these advanced visualization methods into team planning. visTABLE®touch already offers around 1,500 lean planning models "out of the box". This allows com-plex factory scenarios to be mapped very quickly and easily, and then virtually committed.
Imagine to stand at the virtual workplace while planning is fascinating and will open further possibilities in the future for us.

– M. Wurst, Director Factory Planning & Smart Manufacturing
plavis GmbH offers a massive simplification of often 100: 1, partly up to 1000: 1, based on CAD data from product development in order to smoothly map such extensive factory scenarios with thousands of 3D models even with VR glasses from suppliers. The provider of these models normally don't know the requirement in the design of their products, and so in most cases highly complex digital models are created, which need strong simplification for planning, as experienced at ElringKlinger.
Furthermore, the reconstruction of a variety of data sources (2D drawings, point clouds, collated photos ..) is possible. These standard workflows for pro-cessing mixed data and the already extensive standard library provide companies such as Elring-Klinger with numerous options for comprehensive digital factory layout planning.
For this reason, we would like to involve plavis GmbH even more in the data processing in future.

– M. Wurst, Director Factory Planning & Smart Manufacturing
Words of thanks
plavis GmbH would like to thank ElringKlinger and his planning team and will continue to do everything for an excellent cooperation.