Each of us has had some form of contact with 3D models. Well-known applications for this are, for example, architectural planning of a house, an AR app as an advertisement for a toy, or the virtual product at a colleague in the CAD department. There is no doubt that it is planned and presented with 3D models. But do I also need 3D layout planning for my factory? Which applications make sense at all? This article will deal with the pros and cons of such questions.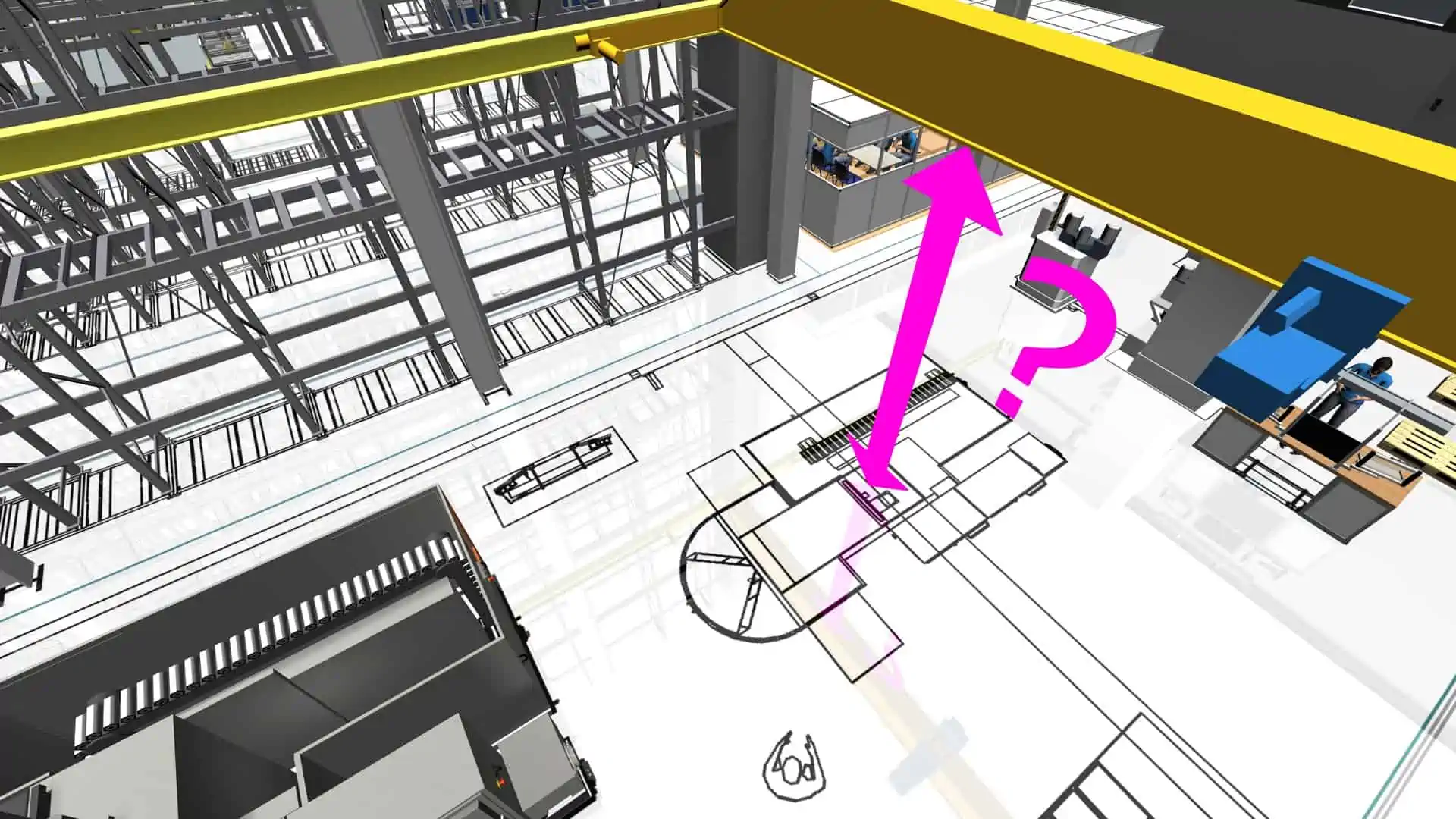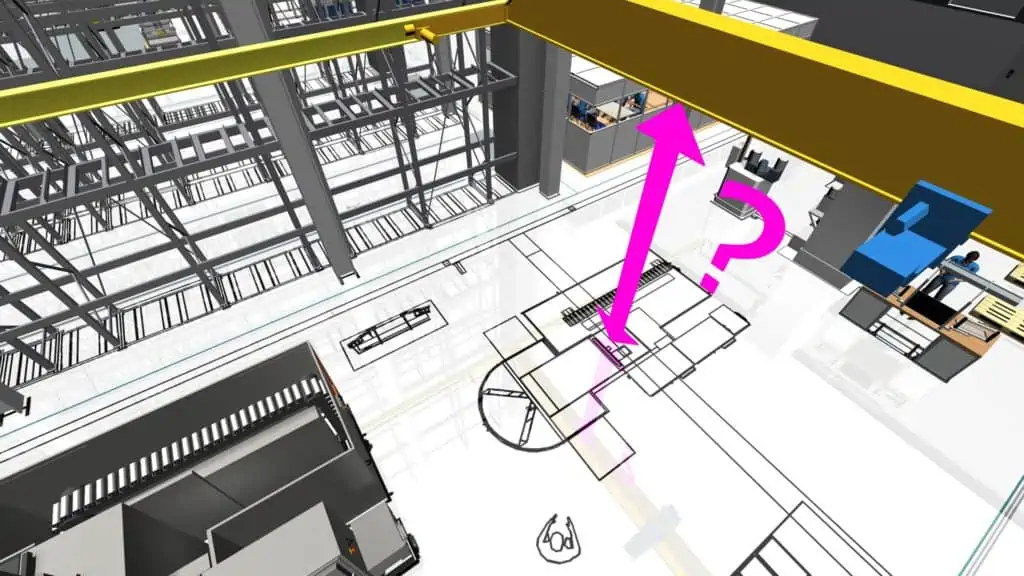 In digital factory planning, 3D models are used as follows:
for height visualization of ceilings and gates etc.
for a spatial arrangement of equipment
to visualize the site of the factory
3D helps us better understand space, distances and proportions. On the other hand, we also deliberately create abstractions in 2D to create a clear, simplified model. This is also how the question arises:
Do I really need 3D in planning?
As an example, I will take a small, medium-sized manufacturing company with just over 200 employees. There Robert Smith is planning a production isle on an area of 2.500 m². He uses a simple CAD drawing for his layout planning and this has always been enough for him.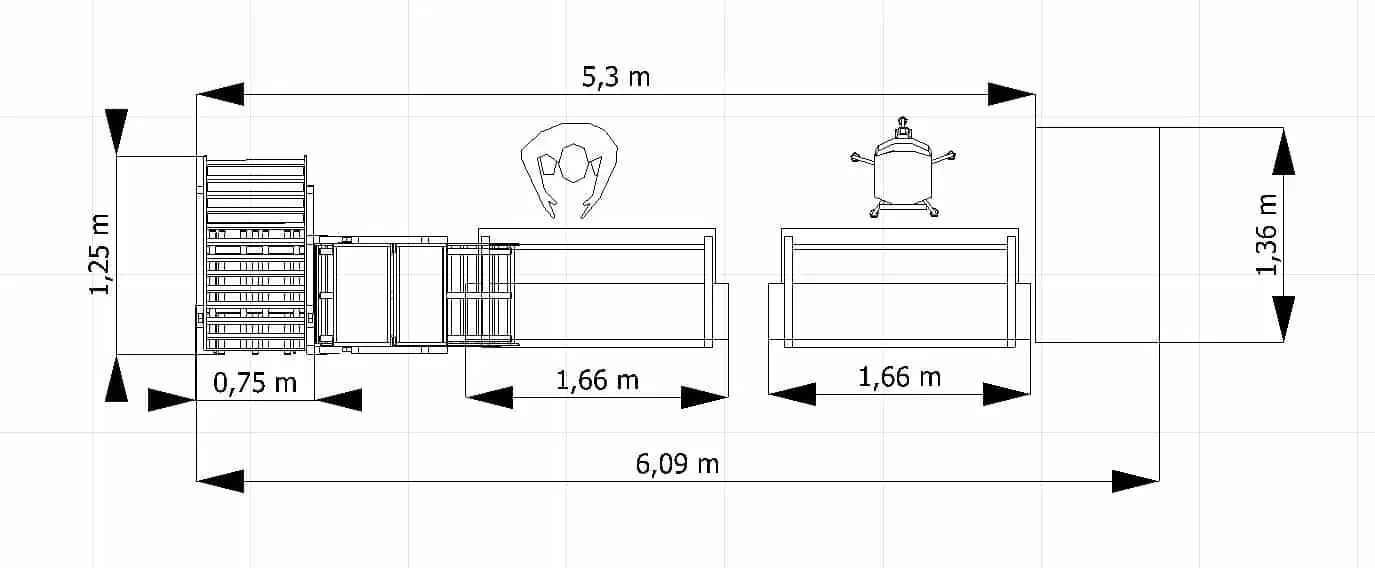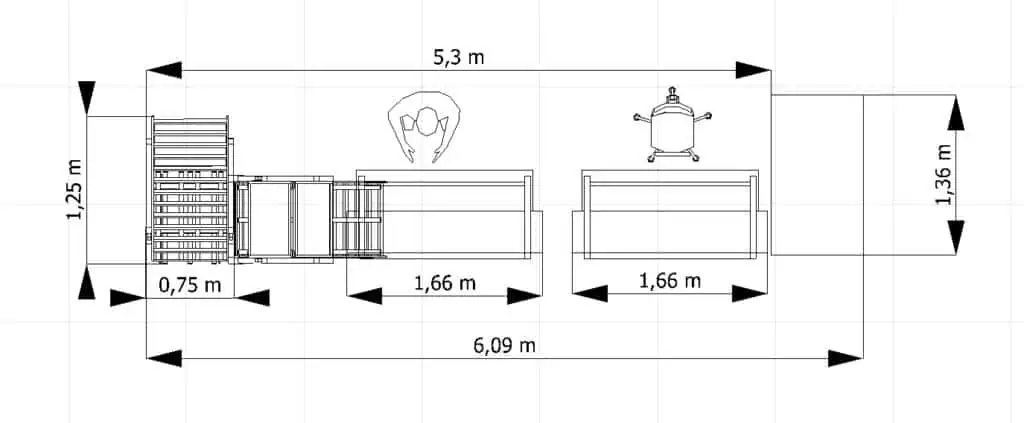 He asks himself a very practical question:
What added value does a 3D illustration bring me and do I solve my planning task at all?
Do I have to show someone how the ordered product runs through our production (keyword IATF 16949)?
Am I interested in key figures for area balance and transport costs?
Do I have to calculate production overhead costs for products?
Are there colleagues who need to present the replacement and new acquisition of production equipment in a simple and understandable layout?
Do I want to visualize my ideas for the production myself without external consulting?
For Robert, there may not be any added value at all. Because he plans in 2D alone and also makes his own decisions based on very simple key figures. His planning is usually already completed after the first concept layout. Then other tasks call him back. Layout planning ultimately accounts for only a very small part of his daily working time.
The flat master layout as common starting point
In the first step, it is often sufficient to simply place blocks on a 2D layout. This is why it is also called a block layout. In practice, use an imported building floor plan as DXF/DWG as the basis for this. This allows you to generate a first rough working plan very quickly. Afterwards, this can then be used as the basis for mapping material flows. And finally, this allows you to evaluate upcoming conversion and expansion ideas with key figures and identify the need for action in the layout.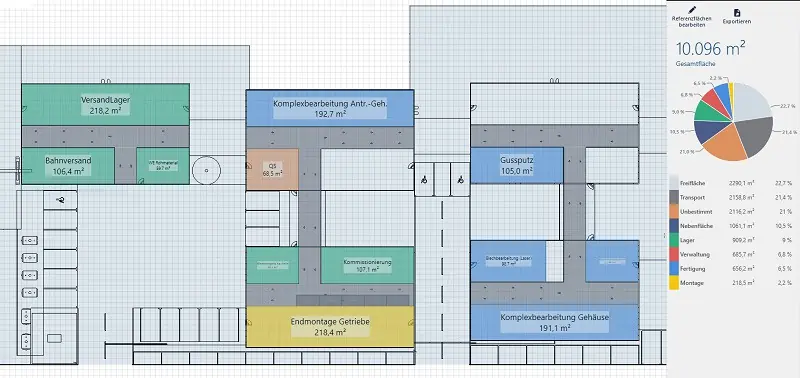 Create a combination of process and layout in digital form. This is already an important first step in evaluating the situation. Afterward, it is much easier to derive the next steps in the planning process. 3D is not a must at this early stage. Common questions are:
Does anyone currently need 3D visualization and for what purpose?
Are 3D CAD data of equipment and buildings even available?
If so, is their complexity appropriate for use in the factory layout?
If you answer one of the last two questions with no and 3D is already a requirement, then you need alternatives.
Simply use existing models
The example of Robert Smith quickly makes it clear that there is a constant lack of time. 3D layout planning then often sounds like dreams of the future for those involved. But now his managing director has asked him to present the planned move in 3D in a simple and understandable way for an investor. There is a new planning goal. Immediately he asks himself:
Where can I get 3D models quickly now?
At this point, first look in existing software libraries for suitable models. For example, visTABLE®touch offers an expandable model library with about 1,500 3D models. This includes modules and construction kits from the areas of production, assembly, storage, SMT or symbols. Use the changeable models to visualize concepts in your factory model.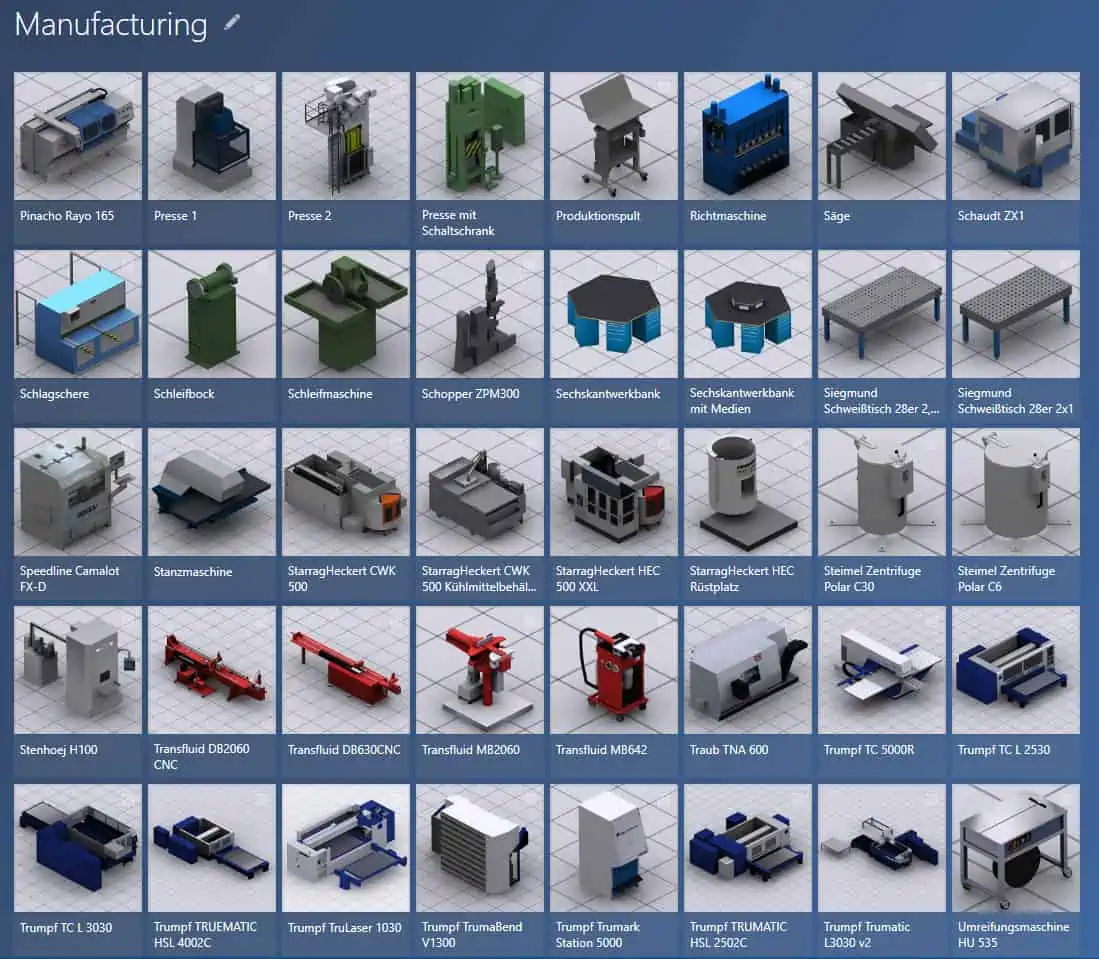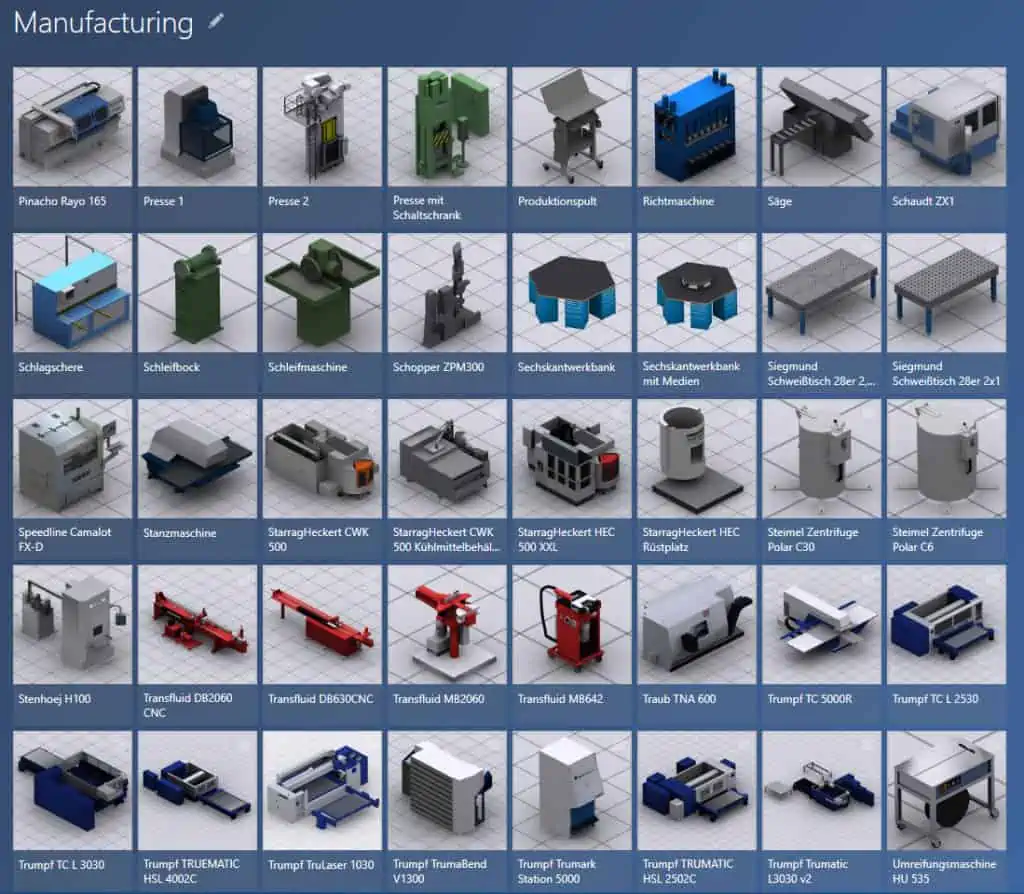 If you still can't find a suitable model, use placeholders in the form of simple blocks. Later you replace them with concrete CAD data. Here are three tips on how to get the desired 3D data:
Equipment and buildings are also digitized by service providers. Here there are various possibilities, from 3D reconstruction based on drawings to laser scanning. This is associated with costs. However, it can be worthwhile for you if standard catalogs with a service life of several years are created from them.
Plant manufacturers have digital product data available in 2D and 3D. When buying a machine, you should make sure that a 3D model is included in the specifications in addition to the technical documentation. You can use this later in the planning phase.
Freely available CAD libraries on the Internet sometimes help. However, please note the rights of use and the heterogeneous data quality by different authors. Providers usually do not take responsibility for the quality.
The result is a 3D model library with a more accurate representation of your equipment and buildings. For Robert as an example, this paves the way to 3D layout planning.
Step by step to the finished 3D layout
The above-mentioned master layout is converted into a 3D layout for each area if required. The extension is optionally done flexibly by different persons, who often come from the area of continuous improvement. Following the KAIZEN idea, even small-scale improvement approaches can be used for layout planning.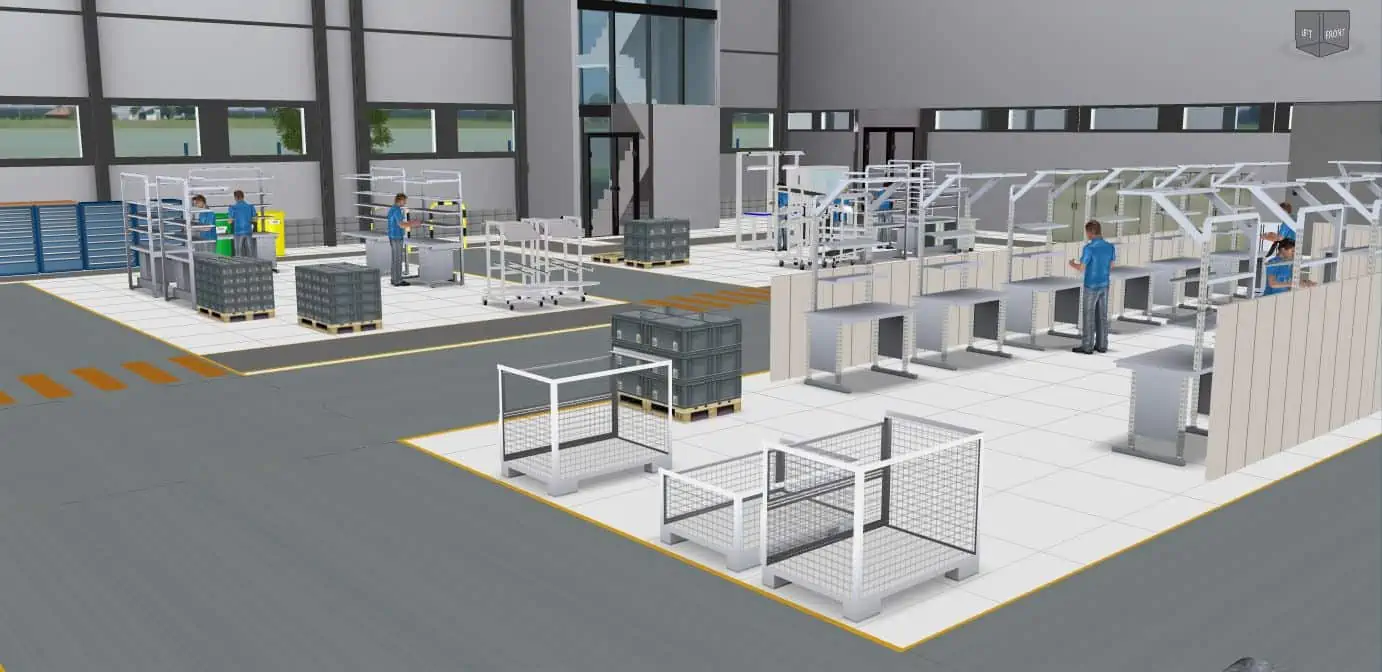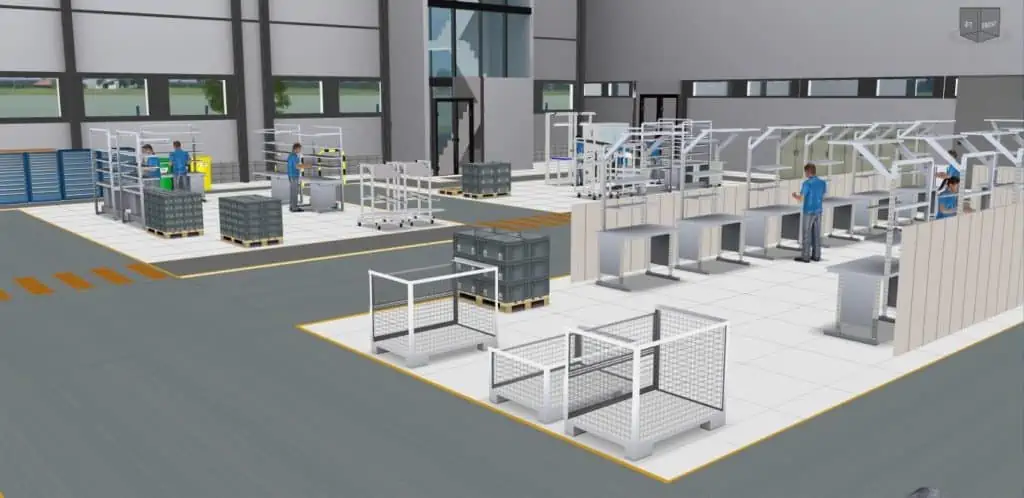 The result is individual and digital factory modules. These are also used separately as variants. The preferred variant is released and used as a fixed object. It then represents the production area in the previously flat master layout. This is how the digital factory comes into being and lives. This is comparable to a 3D puzzle. In this way, smaller companies also benefit from the advantages of 3D layout planning. Certain planning goals can be achieved in the first place
Is 3D therefore a must?
No, but it extends the possibilities if required.
Want the latest articles about visTABLE® in your Mailbox?
No problem, simply subscribe to our Blog-News!