Part 2: What matters in the digitalization of production?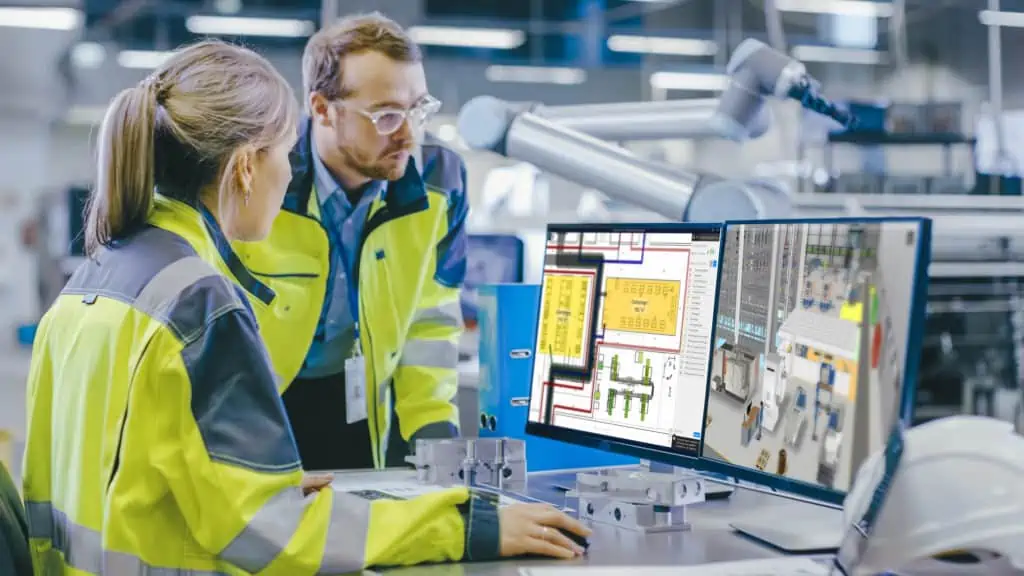 In order to digitalize existing production processes, knowledge management in the company is crucial. Know-how must be within everyone's reach and not remain hidden in silos. With the right mindset, selected methods and tools to support it, digitalization can succeed.
The success of digitization is linked to the right knowledge management
Without access to internal company know-how, opportunities are missed
Proven methods and tools support you on this path
In the first part of our mini-series on digitizing production, we showed you where many companies fail. In case you missed this post, feel free to subscribe our blog to keep you updated. The second part will focus on how to make the digitization of your production a success. In addition to recommendations from the field, you will find a checklist at the end of this article that you can use to get started right away.
Like everywhere else, there is no one solution for digitizing production processes that can master every challenge. There are many approaches that fit exactly to the respective special area. However, the core of these solutions is always optimal knowledge management. "If Siemens knew what it knows…" – this is how we paraphrased a quote from Heinrich von Pierer in the first part. Know-how already available in the company must thus be used more intensively and new knowledge must be acquired in a targeted manner.
Increasing digitization requires a change in core competence
Digitalization does not just stand for an additional qualification that can be outsourced or quickly acquired. It means a change in core competence! More precisely, digitalization becomes part of one's own core competence and must be actively strengthened and expanded.
The task is to make intensive use of existing knowledge within one's own organization. Experience carriers must be brought together from different areas within a framework – regardless of the valid hierarchy. After all, silo thinking can only be overcome if there is a genuine exchange of knowledge across all levels.
The prerequisite for this is a common model in which all participants communicate. One example: In manufacturing companies, the layout often forms such a model. Interrelationships and process flows become visible and can be discussed by all those involved. In order to build such a model, it is worthwhile to use digital tools. Not only can it be created, but it can also be updated on a regular basis. Existing processes can be visualized and scrutinized. In addition, new ideas can be tested extensively before the digital model is merged with the physical world.
This is how the digitalization of production succeeds
Even though there is no one solution, the path to digital production can be described very well by way of example. In order to actively shape the digital transformation, it essentially comes down to 3 points:
A methodical approach
Easily accessible tools
Triggering change with the right mindset
First, it is important to develop a suitable mindset for the change processes. Without openness to deep transformation, digitalization of your production will fail. This is where the Digital Twin comes into play, which we have already highlighted in many places on our blog. On the one hand, such a digital model serves to gain understanding and planning reliability and can also support communication across teams.
Tackle the challenge with broad methodological know-how
In the next step, familiarize yourself with the right methods. This is because dynamic change processes are also based on procedures with which existing knowledge can be adapted and used in new contexts. Strengthening your own methodological know-how helps you to accept challenges and evaluate approaches to solutions. But don't worry: Experimenting in this case does not mean starting from scratch – quite the opposite:
We provide a whole range of background knowledge around factory planning, value stream planning and layout planning and how they are interrelated. Simply subscribe to our blog to stay up to date.
Implementing the Digital Twin with the right tool
For the last step, the implementation of the methods, there are many suitable tools on the market. The choice is usually not easy. Make sure that they are easy to access and intuitive to use. The easier it is to use, the more likely it is that your employees will actively participate. After all, digital tools are a means to an end, not an end in themselves.
Test the tools you are considering intensively and conduct a value analysis. Most providers will give you trial access for this purpose. In the best case, they will explain to you the methodological principles on which the solution is based and also offer suitable coaching. In the end, you will receive an easy-to-implement tool that enables and promotes internal knowledge transfer.
Our checklist: What matters in the digitalisation of production.
To help you on your way to digital transformation, we have put together a checklist. It summarizes all the key points together in our mini-series.
It all depends on the knowledge in the company
The digitization of production is a challenge that countless companies are facing. Due to the many specializations, there is no patent remedy. In essence, however, it is always a matter of identifying the existing knowledge in the company, bundling it and using it for the digital transformation. Only through targeted knowledge management can the step into Industry 4.0 succeed. If you don't want to miss any developments regarding methods and their digital implementation, then subscribe to our blog! We will keep you up to date.
Want the latest articles about visTABLE® in your Mailbox?
No problem, simply subscribe to our Blog-News!