(updated on 2021-06-28)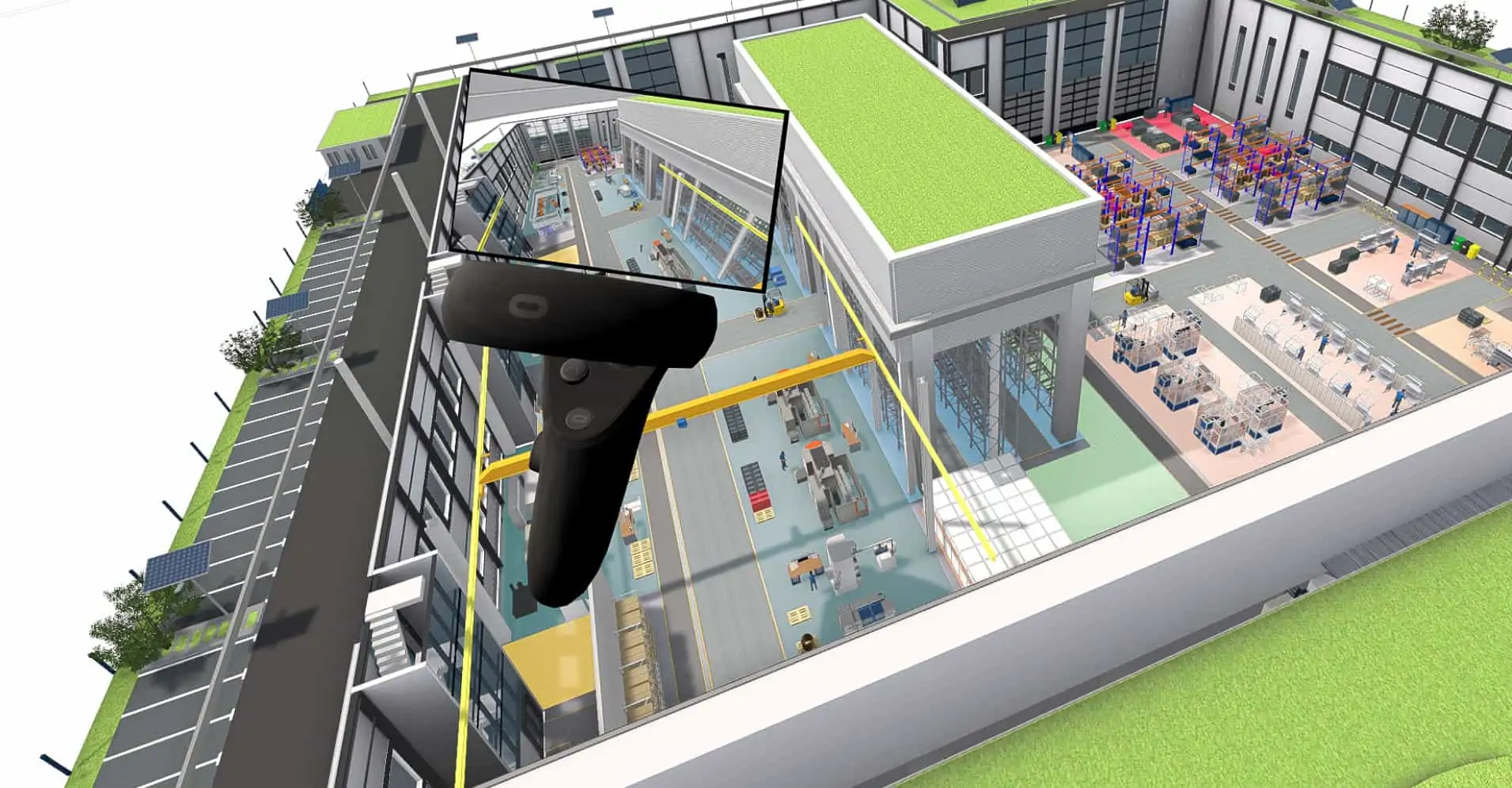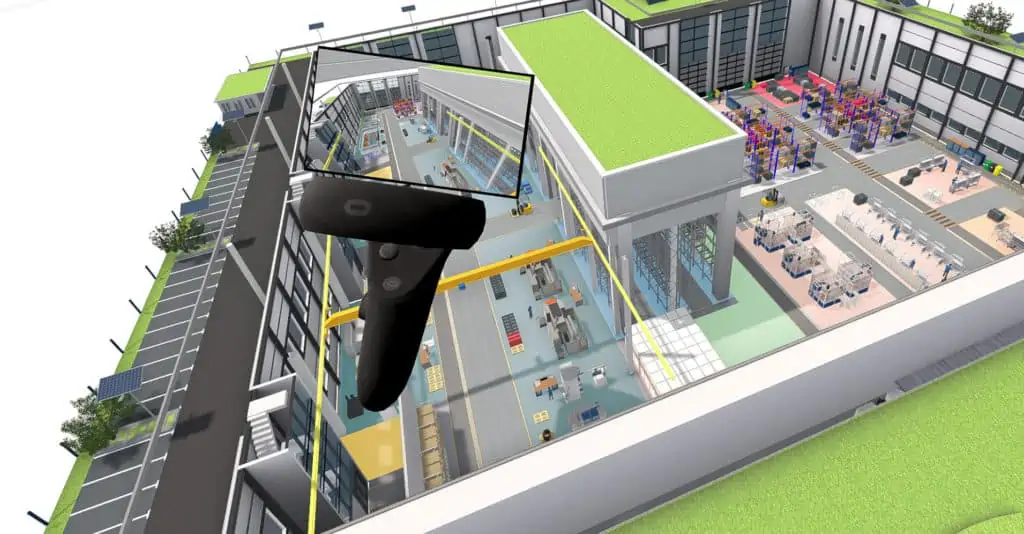 You are convinced of VR or have at least already experienced the benefits of virtual reality in some form. But now you want to know specifically what the practical application looks like? In the last article on VR, the application in factory planning was already briefly touched upon. In this article, we will now go into more detail about an example application from the Free University of Bozen-Bolzano. What you need for this and how this VR app supports you in layout planning, you will learn in the article with a video in the last section.
Why can a VR app add value to layout planning?
Presence – The simple fact that in VR you feel like you are standing in your factory. You perceive the 3D model in the right proportions and distances. This is convincing and understandable
Improved failure analysis – the special features of Virtual Reality and special functions support your team in the planning process
Locally distributed use – even in times of a pandemic, it is possible to work together intensively and discuss the current status as if you were on site
VR can therefore provide a very vivid and realistic picture of a current or future state of your factory. VR helps to improve communication for all parties involved. So this form of visualization goes quite a bit further than the usual 3D view on the screen. But of course, it requires something more than a flat screen or a canvas.
Possible configurations for a VR app
The most attractive form of VR from the user's point of view can be described as follows:
mobile – change of location possible at any time, easy setup and set-up
wireless – can be operated via wireless LAN (WLAN) for the image and control data
even better or ideal:
self-contained – standalone Head-Mounted Display (HMD) with integrated computer
The following illustration shows three possible configurations. From left, often permanently installed, to right, standalone, mobile at any time. Today, everything is already operable at reasonable costs and has long since found its way into the private sector for entertainment purposes.


The middle configuration in the picture represents a good compromise between mobility and computing power. With markerless inside-out tracking and a VR notebook, it is possible to switch to another room within a few minutes to start the VR app. How well markerless inside-out tracking works is also shown by VDC Fellbach's investigations into tracking accuracy.
Standalone operation is currently only possible to a limited extent due to the mobile processors used (Snapdragon XR2 as of 2020). However, the VR app presented here can already display about 1-2 million polygons. That roughly corresponds to a medium-sized factory with optimized 3D data. With a powerful notebook of the latest CPU and GPU generation, 5 to 10 times the model size is feasible.
Wireless usage is currently just becoming the standard, supported by the Wi-Fi 5 (IEEE 802.11ac) and the newer Wi-Fi 6 (IEEE 802.11ax) standard. Local conditions for small latencies must be taken into account. Especially distances between router-notebook-HMD have to be considered and that all devices also have access to the shared network. The distance between router and notebook can also be bridged with LAN cables. Besides these technical hurdles, the VR software must also support wireless use.
Notes on hardware for a VR app
Based on experience, the following hardware components (as of June 2021) work well with VR:
VR notebook
graphics card: Nvidia GeForce RTX20/30 o. AMD Radeon RX 69/68
processor: i7/9, Ryzen 5/7/9
working memory: 16/32 GB
Especially the graphics card is required for large 3D factory models and should be able to calculate high frame rates in VR. On the one hand, this is important for user comfort to avoid so-called motion sickness, but also for the usability of software functions in VR. For VR applications, a computer can actually never be fast enough, due to the necessary double image calculation for the left and right eye and also when you are working with not fully optimized 3D CAD product data. So here you have at least a certain performance buffer to compensate for weaknesses in the 3D model. However, it is recommended to check the 3D data beforehand, especially for a VR app.
VR goggles or head-mounted display (HMD)
Oculus Quest 2 (Pro)* Business
The Oculus Quest 2, like its predecessor, is by far the easiest headset to use and set up. It can be operated via link cable as well as Air Link in connection with a notebook and also offers standalone use with the software mentioned in the next section. This means you can also allow guests to visit in VR very easily with just a headset.
If you already use other VR headsets in the company, then simply check the compatibility with the VR software and whether the HMD meets your requirements. Standalone use is currently only possible with the Oculus Quest using the mobile software version (see below).
Important note: For data protection reasons, the sale of the Oculus Quest is currently not possible in Germany (as of 03.06.2021).
*An improved Pro version is not expected to be available until 2022.
Software for the VR app
IrisVR Prospect
This software makes it possible to read in a 3D model as wavefront OBJ from visTABLE®touch in a very short time and to start a VR session in the 3D factory model. In doing so, several people can meet for a collaborative session in the same 3D model and thus perform a failure analysis.
For standalone use of the software in conjunction with the Oculus Quest, access can be requested from IrisVR support. All supported headsets can be found here.
Video on VR and a practical example from the Free University of Bozen-Bolzano
Want the latest articles about visTABLE® in your Mailbox?
No problem, simply subscribe to our Blog-News!