Assembly planning with visTABLE®-Software
visTABLE® is a straightforward tool to organize your assembly center in an optimal manner. Comprehensive model catalogs are provided for worktables, working chairs, containers, concatenated systems and automatic assembly cells which quickly produce convincing results in 2D and 3D.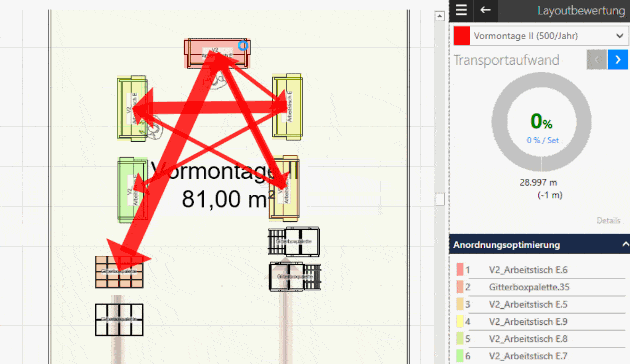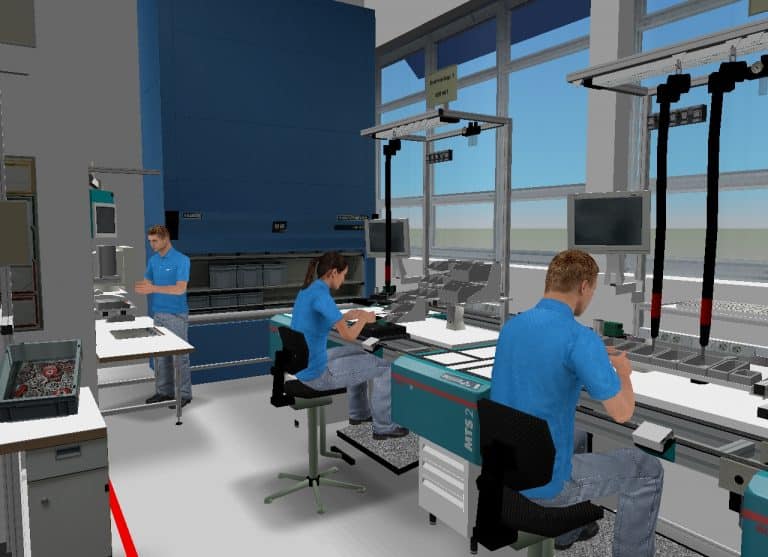 Reducing walking distances and the logistics costs
Arrangements of assembly stations and containers in the layout, travel analyses (spaghetti diagrams), and the observance of safety clearances can be validated in the same way as the material flow to and between the workplaces and their integration into the complete value stream.
With most products, assembly constitutes the final step in the value chain. Optimization of production involves consequently lean production with low stock than in other areas of manufacturing organization. Furthermore, it is here more important than in production to realize a one-piece flow to be able to provide only the products required by the customer.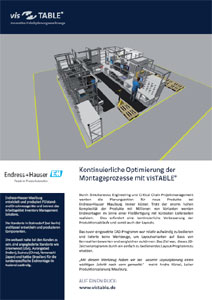 "The straightforward approach of visTABLE®, the resulting structured procedure, and evaluation of transport efforts at the press of a button convinced us."
Andre Kürzel, Head of Production Planning at Endress+Hauser Maulburg
visTABLE® helps to realize a team-oriented approach with digital models. The powerful visualization provided by visTABLE® – even using virtual reality upon request – gives a realistic impression of the digitally planned work systems, ready for time-related or ergonomic evaluation based on elements of an MTM process, for example.
Walking distances, material handling, and ergonomics
This places high demands on assembly organization. After all, a large number of variants must be produced both flexibly and with minimal waste. Preference is often given to production simulation software, but it still remains necessary to design the process sequences and to optimize the workplaces first. Walking distances, material handling and ergonomics are higher-level target criteria in this optimization. Collaborative design methods, such as cardboard engineering (design and testing of new work systems at a scale of 1:1 by way of cardboard or wooden constructions) are deemed very effective in this context.