The Hinterschwepfinger service portfolio is rather unique: the company develops production site concepts for SMEs and then takes care of general planning and turnkey construction of the relevant buildings or even entire locations – as a one-stop partner. Hinterschwepfinger is a pioneer in the field of digitalization and is thus able to promise absolutely faithful adherence to an agreed schedule and budget. For all aspects of location and factory planning, visTABLE® is the software of choice.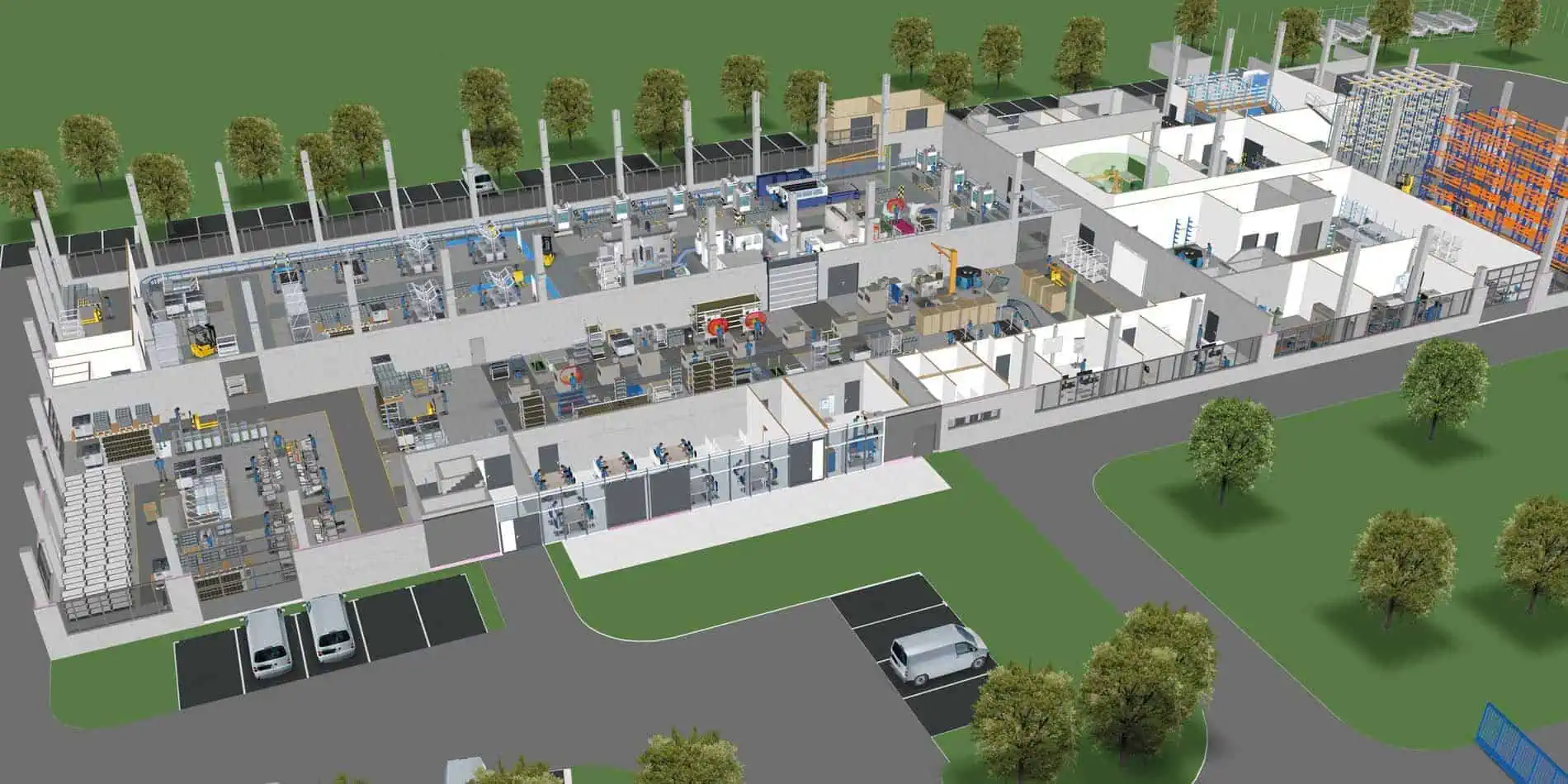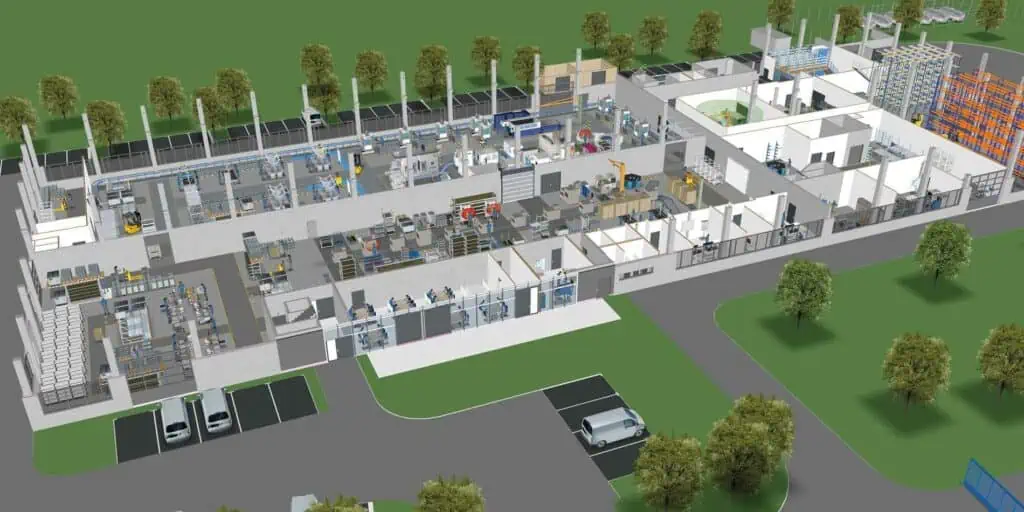 "Fast-growing SMEs often struggle with chronic space shortages," says Stefan Kaspar, member of the management board at Hinterschwepfinger. Sooner or later, therefore, they must either expand their current premises or plan for relocation to a greenfield site. "Many such small and medium sized businesses come to us and ask us to plan and erect a new building or a new location. In most cases, however, they have no real idea of how the material flows should best be implemented and are unable to tell us exactly how much space will be needed in the coming years."
"visTABLE® is a seamlessly integrated tool, and that is something I really like."

Stefan Kaspar (member of the management)

It was against this background that Hinterschwepfinger set up a dedicated factory planning office around ten years ago. Together with the clients, the planners analyze material flows and production processes, and develop future scenarios to determine the precise needs for the coming years. Only then can thoughts be turned to the actual planning of buildings.
Planning based on the process
The starting point for factory planning is an analysis of the current material flows using visTABLE®. "The software visualizes mutual dependencies in a very clear manner. Any weak points and possible obstacles to further growth are immediately visible," says Stefan Kaspar. These findings are then taken into account in layout planning for the future production facilities. "Our clients are often surprised at how optimized material flows and factory structures can save hundreds of square meters of floor space."
Hinterschwepfinger rarely plans a single fixed layout for its clients. Provisions are made for future expansion, so as to cater for a variety of future scenarios. Future expansion phases can also be planned and simulated in visTABLE®. The client is then optimally equipped not only at the time a new facility is commissioned, but also for many years ahead. Stefan Kaspar: "The basis for our planning is thus not the building, but instead the process." Knowledge of the process elements and material flows enables suitable layouts and technologies to be developed. This structured approach can be modeled perfectly in visTABLE®.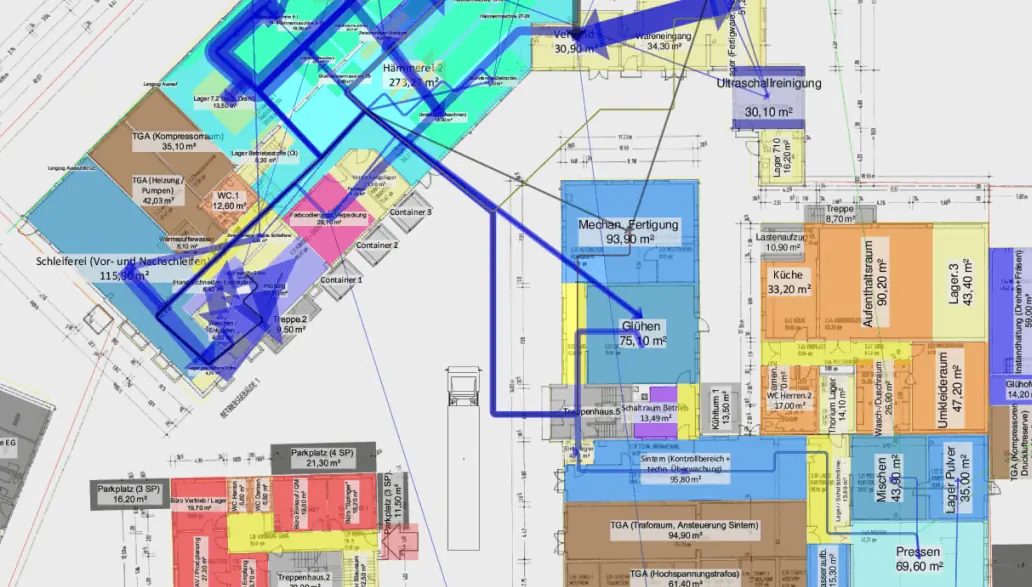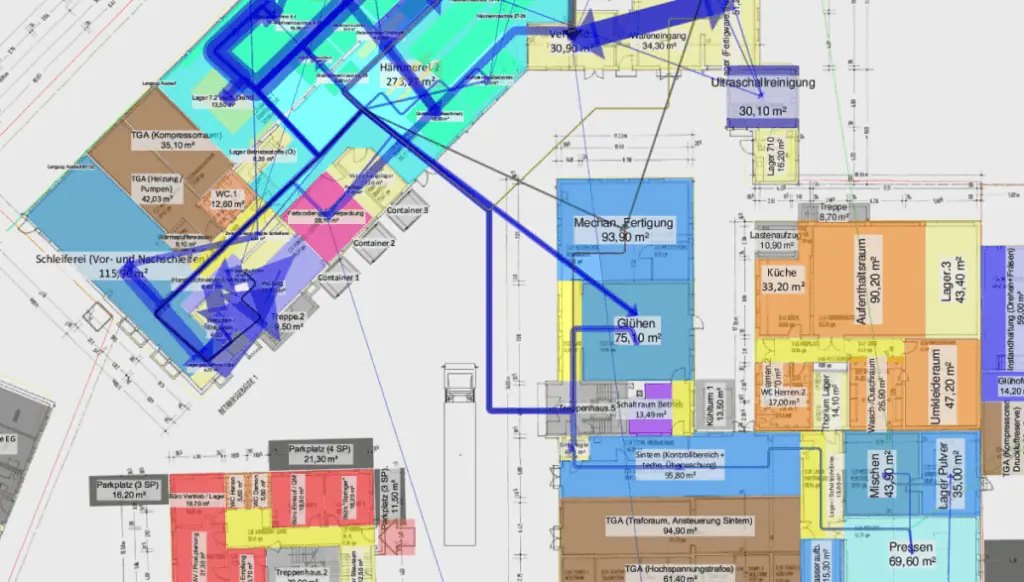 Good planning saves time
The outcome of factory planning is a detailed breakdown of the space requirements and an initial estimate of the cost of implementation. That helps to avoid unpleasant surprises at later stages of the planning process. "If the building design is already complete and we then discover that the planned storage areas are too small, for example, everything has to be sent back to the architects," as Stefan Kaspar points out. That costs time and money. And the later in the process such modifications are necessary, the higher the costs for re-planning.
"visTABLE® visualizes mutual dependencies in a very clear manner. Any weak points are immediately visible." says S. Kaspar

Another important factor for Hinterschwepfinger was that there should be no hard divide between factory planning and architectural design. "Having all the various teams under one roof, we are naturally also interested in working with a common digital model," Kaspar explains. That means that it is must be possible to share plans and models regularly between the factory planning and architectural software.
Clear decision in favor of visTABLE®
In visTABLE®, Hinterschwepfinger has found a software solution that permits precisely such data exchange. At the same time, visTABLE® meets another key prerequisite: "When looking for a suitable tool, it was important for us that it should be functional and easy to use. Digitalization is intended to make work easier for our staff, not to complicate things unnecessarily," says Stefan Kaspar. With that in mind, Hinterschwepfinger subjected visTABLE® to a period of thorough testing and was in the end able to make a clear decision in favor of the software. In the meantime, every factory planning project at Hinterschwepfinger is realized with the aid of visTABLE®.
Words of thanks
We at plavis GmbH would like to thank Hinterschwepfinger Projekt GmbH especially for its important feedback on the practical use of visTABLE® and wish the company continued success in all its future projects!
About Hinterschwepfinger
Hinterschwepfinger Projekt GmbH is a leading service provider for the integrated planning and sustainable construction of high-quality industrial and commercial buildings for small and medium-sized enterprises. The family-run company offers a unique service portfolio covering the full spectrum from factory and location planning, via general planning and architectural design through to turnkey construction. The company has its headquarters in Burghausen. It was founded in 1956, today counts more than 130 staff, and handles projects for clients from all over Bavaria. www.hinterschwepfinger.de