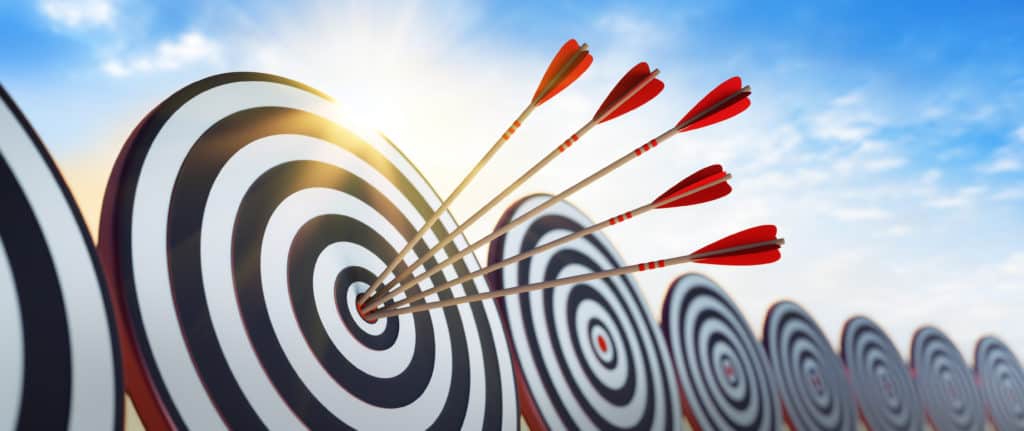 When researching 3D modeling of planning models, you have already noticed that there are at least a handful of possibilities? This article will directly compare 5 different methods from a practical factory planning perspective. As you will see, all roads can lead to Rome, or rather to the goal. You will find a PDF for comparison below as a download.
Which 5 methods for 3D modeling are we talking about?
Hand measurement
View modeling
If you want to know more about the individual modeling methods, I have linked corresponding blog articles in the list. For view modeling and hand measurement a short explanation follows.
What is view modeling?
Usually, 2D CAD drawings are used as data basis for this method. To create a 3D model, there must be at least one top view and two side views (from the front or back, and from the left or right). A simplified 3D model can then usually be reconstructed from these blueprints. When reconstructing a 3D model, several 2D views must always be compared with each other by the processor. This is usually done in a 3D software by means of a set-up plane cross with correctly scaled drawing views.
At higher levels of detail, the effort can increase significantly or even lead to errors due to incorrect reading. In principle, however, an accurate planning model can be fed back with a checked CAD basis. Alternatively, technical documentation or illustrations in product sheets can be used. Here, however, it is important to know whether the concrete design of a machine is also correctly represented in a drawing view or whether it is only a principle representation with variable dimensions. This check is the responsibility of the model editor. One advantage here is that no on-site measurement is required to generate the 3D model.
What does manual measurement mean?
Hand measurement is a method that existed before the introduction of laser scanning. Conventional means such as tape measure, or even more modern a handheld laser measuring device are usually used for the measurement. This method is most effective in case of direct 3D modeling on site. This means that recorded length measurements are immediately transferred into 3D planning models in software on a notebook. Thus, the modeler can always switch very quickly between measurement and reconstruction. Missing dimensions can be taken from the real object at any time. Corrections can also be made quickly.
The disadvantage of the method is the high physical and sometimes also psychological strain on the operator due to the manual measurement and modeling in the often noisy environment of a factory. In return, however, valid and optimized 3D models can be generated relatively quickly. Alternatively, the measurement can be done separately from the actual modeling, with the disadvantage of possible erroneous data.
How do the methods for 3D modeling differ in principle?
The 3D-CAD optimization represents a first special case, because here you already receive finished 3D models from the equipment supplier or building architect. These are only usually too complex or unfavorably structured for direct application in layout planning. This means that you have to turn very large data volumes into much smaller ones in order to use the 3D models effectively.
Laser scanning, on the other hand, first generates a much larger amount of data during automatic measurement than is actually needed. This must then be greatly reduced again for effective layout planning. This practically means transforming complex and unstructured point clouds into simplified and separated surface models. Laser scanning is also only applicable in an existing factory.
With the three remaining methods, no 3D data exist at all. These are first created by a CAD expert and converted into the desired 3D model virtually by direct modeling on the basis of captured dimensions, photos or 2D CAD drawings.
So which method is best for 3D modeling of equipment?
In principle, there is no such thing as the best method. All of the methods mentioned, when used correctly, can lead to the necessary planning accuracy and acceptance among those involved in the planning process. However, there are certain criteria that can help you choose the best method or mix for you. For example, the lack of a data basis can be an exclusion criterion. The following are some decisive model-related selection criteria, which are summarized again in an overview below:
data basis
complexity of the equipment
achievable level of detail
possible error costs
modeling costs
capture building yes/no
Other factors primarily relate to availability and effort:
Intern:
employees
specialization
software
hardware
budget
time schedule
External:
service provider
specialization
budget
time schedule
Overview of comparison and evaluation of the 5 methods for 3D modeling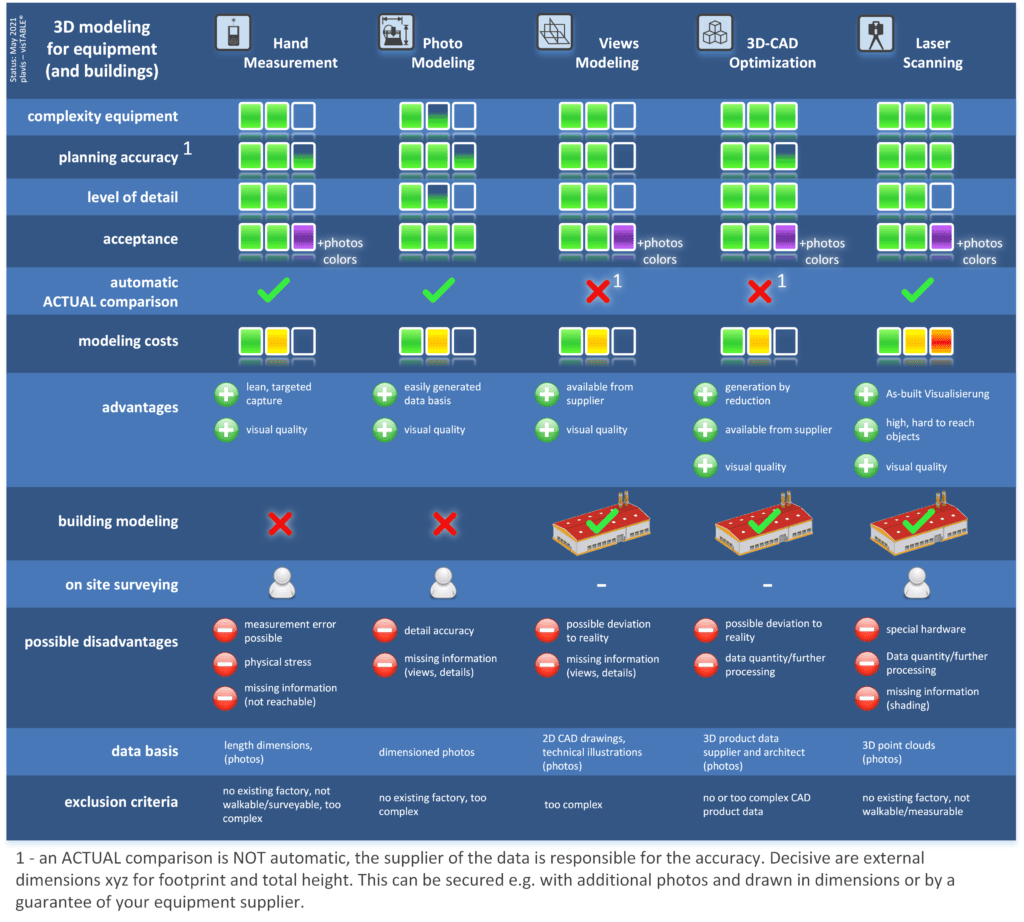 Want the latest articles about visTABLE® in your Mailbox?
No problem, simply subscribe to our Blog-News!