Let us briefly outline how your company can also benefit from digital transformation and whats this Digital Factory is all about. Currently many manufacturers still lag behind others with digitizing their companies. While the remaining aspects of product development are already handled digitally, the companies failed to perform a digital transformation in respect of the costs, efficiency of the resources, and quality in production. Nevertheless, there are currently many manufacturing companies that succeeded to digitize their services, thus increasing their profit.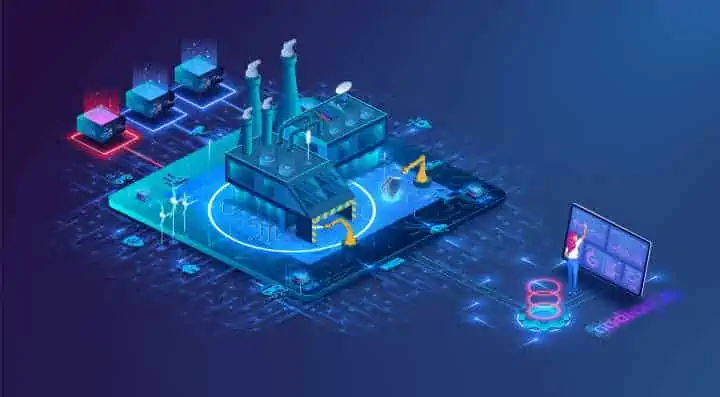 What is actually meant by 'Digital Factory'?
You have certainly already heard of 3D printing, the "Internet of Things" (IoT)) or a 'digital twin'? These innovative technologies are only a few data-driven revolutionary concepts forming the backbone of a digital factory, which are essential for establishing companies in a new age.
A Digital Factory is a system that combines state-of-the-art expert knowledge and smart devices to make industrial processes more efficient. The smart factory uses the Internet of Things to simultaneously collect and analyze production data. But this is already the next step towards Industry 4.0 leading to noticeable enhancements for the companies.
The Digital Factory combines the technology of the digital twin and its related systems with network engineering, cloud computing, real-time data processing, and artificial intelligence based on data-driven machine learning with the technology of the Internet of Things (IoT), including sensors and actuators, with cyber security and smart devices. It is thus possible to remotely access machines and systems in order to collect critical production data, thus optimizing and accelerating the workflow in the production.

What are the benefits of a Digital Factory?
The companies have been taking more and more advantage of software, simulation, sensors and smart manufacturing and digital manufacturing to enhance their manufacturing processes. If the companies, however, wish to get most out of their manufacturing processes, they must rely more and more on interconnected automated machines and systems. This is the only way to produce large quantities at a constantly high quality, with reducing the costs by way of new technologies, such as the digital twin concept in smart manufacturing.
Digitization is therefore a sophisticated possibility for many companies to innovate their existing business models. Not only the operation and value-added chain can be revolutionized – no, the manner how we produce things, where we produce things and to whom they are delivered are decisive to accelerate the manufacturing process, and in accordance with that, we check which technology fits best. Companies that have already completed the digital transformation successfully benefit from the following advantages:
Thanks to digitization of the manufacturing processes, the manufacturers can reduce the time from the product development to delivery thanks to the technology of the digital twin and thus significantly reduce the time of transfer of a product from the development to the production. The supply chain is not interrupted, and the manufacturers can even better react on the demands of their customers.
Companies that manage a variety of departments and locations have difficulty in implementing a holistic concept. But this is not rocket science with software solutions based on a digital twin. The data can be exchanged between the individual locations in real time, and thus the cooperation between management and employees becomes more efficient and transparent when commonly performing key activities.
A further advantage of digital twins is to save energy by using real-time data from the management. The management can thus quickly identify excessive energy consumers and implement appropriate modifications to improve the efficiency.
Digital twins are especially relevant for machine learning; the company can save maintenance costs since the equipment automatically issues real-time signals to enable the company to perform data-driven maintenance. This technology allows the company to react quickly, thus avoiding a total breakdown.
Thanks to sophisticated data-driven solutions, such as the Industrial Internet of Things (IIoT), digitization paves the way for smart manufacturing. Industry 4.0 makes the cooperation of management and employees more efficient; workflows can be controlled better, and manufacturing tasks can be solved more efficiently.
How does a Digital Factory work?
Integrated data processing is focused on three principal fields: The whole product lifecycle, smart factories, and innovation of the value-added chain. Each of these three topics involves a specific area of product design – starting from engineering and product innovation via enhancement of the assembly lines to optimization of the resources for a continuous flow of high-quality goods and higher customer satisfaction.
Digital data processing is data-driven and based on the idea that all products are made of data. Single parts and even complete products are produced by way of a complex toolbox of sophisticated methods. These parts and products are produced with the help of computer-controlled machines, starting from laser cutting machines via milling machines up to 3D printers. It is not for nothing that such machines are today more in demand than ever – because it is primarily their attractive cost-benefit ratio that makes them a mainstay of efficient and state-of-the-art manufacturing.
With the digital factory, conventional industrial machines are a thing of the past – programming is the magic word! And the digital twin is used right there – in the digital factory – to simulate processes, manage resources more efficiently and to use the available space and energy optimally. Industry 4.0 makes it easier for companies to design their processes more efficiently and to manufacture high-quality products at simultaneously lower overhead costs. Moreover, it has been proven that necessary setup times are reduced for the companies by half thanks to the use of digital twins. In other words: More products can be produced in better quality and lower costs in less time.
How do I get to the digital factory for my company?
In the age of automated industrialization, the ability of a company to get the most out of real-time data and real-time information has become a decisive advantage in competition. You can literally watch how the smart factory emerges from digital transformation, which influence the smart factory has on the product development and product manufacturing and how we interactively with our customers organize the supply chains. In this digital revolution which is unambiguously towards Industry 4.0, we are all expected to be flexible so that our jobs are not replaced by automation.
There are different possibilities of innovation for a company which will be divided here into three general categories – the product, the business model, and the process.
Possible triggers for product innovation can be technological further developments, modified customer requirements or an obsolete design of the product.
The largest challenge for innovation of a company is probably the elaboration of a new business model. In many cases, the abilities or processes that have been optimized for success of a company become the targets of the transformation. An innovation of the business model, however, is almost risky, accompanied by radical changes and transformative.
The innovation of the processes in a company is to be understood as a combination of changes in the production facilities, in the abilities and technologies used for manufacturing; as a rule, innovations in the product are visible to the customer immediately. Changes in the manufacturing processes, however, lead rather to cost reductions and not in turnover increase. Changes in intralogistics and the supply chain are usually only noticed and estimated internally.
But there are three types of innovation, and changes in the processes are amongst those with the lowest risk. This type of transformation can be performed step by step, and even moderate changes in the workflow are useful.
The Digital Factory operates by way of embedding management techniques together with different tools. The following simple steps are sufficient to perform a successful transformation of your company into a Digital Factory: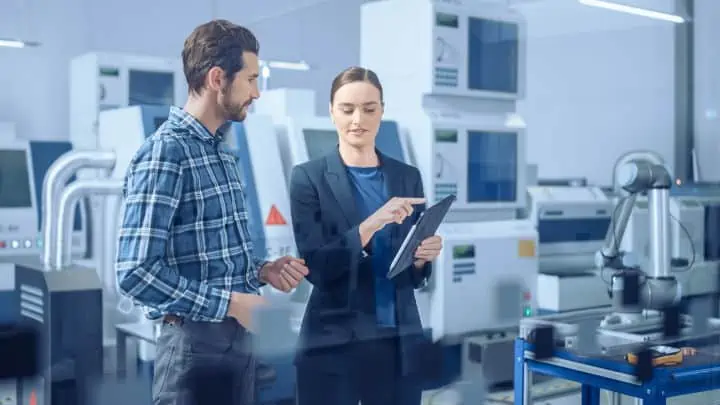 You must know and understand the conditions under which a digital factory can be created.
You need a good establishment of stakeholders in your company who support the concept of digital factory.
A process of continuous improvement based on profound digital data must be initiated.
Read our article to find out which points to pay attention to in detail and how you can actively shape this digital transformation. 
Digitalization of production: How to
Since innovations in the business processes only become visible after they have been implemented, you will need a data-driven digital model to make this process of innovation tangible for all persons involved to visualize how the future company will look when turned into a digital factory. A digital twin is a virtual representation of an object or space in reality to make an analysis and decision-making around this object or space more efficient. In other words:
And what's more: You can even highlight appropriate spots on the digital twins where you wish to introduce changes making your factory planning more efficient.
If you want to learn who on your team benefits from a Digital Twin and at what stages, read our in-depth article 
Who benefits from my factory model as a Digital Twin?
These new technologies are expected to create a new model for labor and employment in the 21st century, thus forming a solid basis for new approaches to human capital, rewards when mobilizing the human capital, and investments to be adapted. In accordance with the PwC global review by 2030, all companies will have to adapt the training and development programs accordingly to remain competitive.
Conclusion
We are currently witnessing how the ways all companies and individual persons involved in the processes handle information change drastically. The manufacturers are under immense pressure since they are forced to adapt their business models accordingly to generate new sources of revenue and to find out how they can survive in the competition. This challenge is solved by the transformation to a digital factory, and this can only be achieved with the right approach.
Want the latest articles about visTABLE® in your Mailbox?
No problem, simply subscribe to our Blog-News!